Hold onto your helmets, folks! The Girls Flag Football team kicked off their season with not one, but two epic wins! They stormed into Pleasant Hill, ready to tackle Berean Christian and College Park.
Addie Martin, Ella Thomason, and Jenna Steele took charge as team captains, unleashing a pep talk that could have powered a small city.
Zoya Acuna got the start at QB for the Dons and came out confidently throwing against the Eagles. She completed a few early throws to Steele and Maya Shoenhair and then, like a lightning bolt in cleats, RB Kelly Todhunter charged in for a 20-yard running touchdown, putting the Dons up 6-0 against the Eagles. But wait, the Eagles flapped their wings and quickly tied it up 6-6.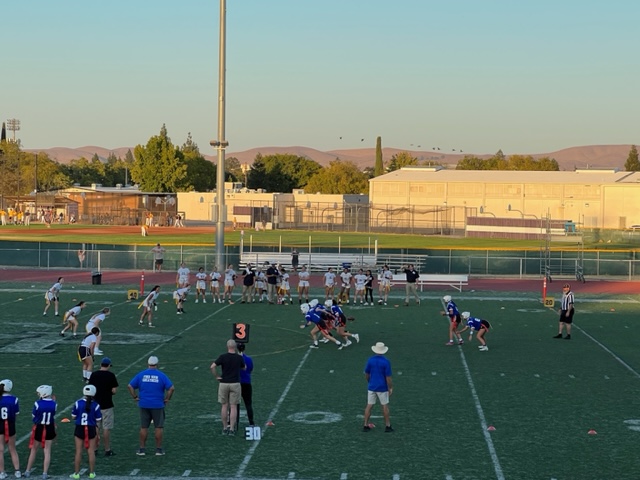 Just when you thought it was safe, Acuna unleashed a 60-yard missile to Monica Dikova for a touchdown. Lana Cerejo then came in and threw a 10 yard strike to Shoenhair for the 2 point conversion catapulting the Dons to a 14-6 lead. Berean, bless their hearts, fought back, keeping it tight at 14-12. Then, Todhunter decided she wanted more highlight reel material and scored yet another running TD, making it 22-12.
That's as close as the Eagles got, because Ella Thomason and Steele decided it was their turn to dance in the end zone. Meanwhile, Dakota Goyert and Anya HassHollenbeck and the rest of the Dons defense turned the pressure up on the Eagles' QB, making sure the victory was securely in the bag. The final score? A whopping 35-12 for the Dons!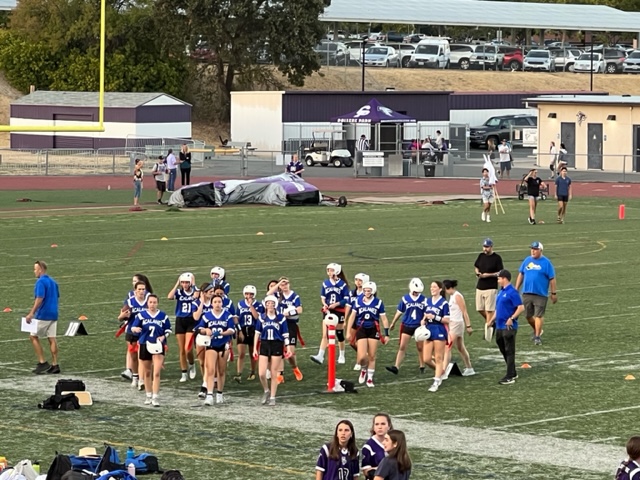 Now, game two against the College Park whirlwind! These folks had been practicing since the dawn of time (or so it seemed), and they came out with the confidence of champions. They landed a quick touchdown on their opening drive, and we were all left wondering if we'd need to call in the punting squad. The Dons held it together and were down 0-6 at halftime.
But hold on to your pigskins, because halftime came with a masterstroke from our coaches. Acuna transformed into a quarterbacking maestro, sending bombs to Dikova, who snatched them up and sailed into the end zone for our first TD. It was a tie game at 6-6!
Then, the plot thickened. On 4th down just past midfield, College Park threw a pass over the middle, but Ella Thomason said, 'Not on my watch!' She snagged that ball, dodged a couple of tackles like a pro, and ran it back for a pick 6! Bam! The go-ahead touchdown was born. The Dons went wild, and rightly so.
From then on, it was a defensive spectacle. Playing CB was a collection of Dons superstars, Alana Brinkman, Addie McShane, Romi Avrahami and Shoenhair blanketed the Falcons wideouts. Meanwhile, Steele, Thomason and Brinkman made tackle after tackle. Once again, Goyert, HassHollenbeck and Dikova applied consistent pressure that did not allow the opposing QB any time to feel comfortable as our deep safeties Todhunter and McShane ensured nothing got past our Dons.
College Park tried to make one last move, but were stopped on 4th Down! The offense came in and Acuna took a knee to run out the clock and the scoreboard read 12-6 in an epic comeback for the Dons!
These girls showed more heart than a cardiologist's convention and managed to outshine a team that looked like they'd been playing since the invention of the pigskin. Bravo, ladies! Here's to a season filled with more touchdowns, interceptions, and wild celebrations than we ever thought possible!