In the four years I've been writing football recaps, this is the hardest one to write. I don't think it is hyperbole to say that the wounds are still fresh, and our hearts are still heavy. However, it would be a disservice to the players and coaches not to highlight all the great play on Friday, along with the mistakes, and the plain bad breaks.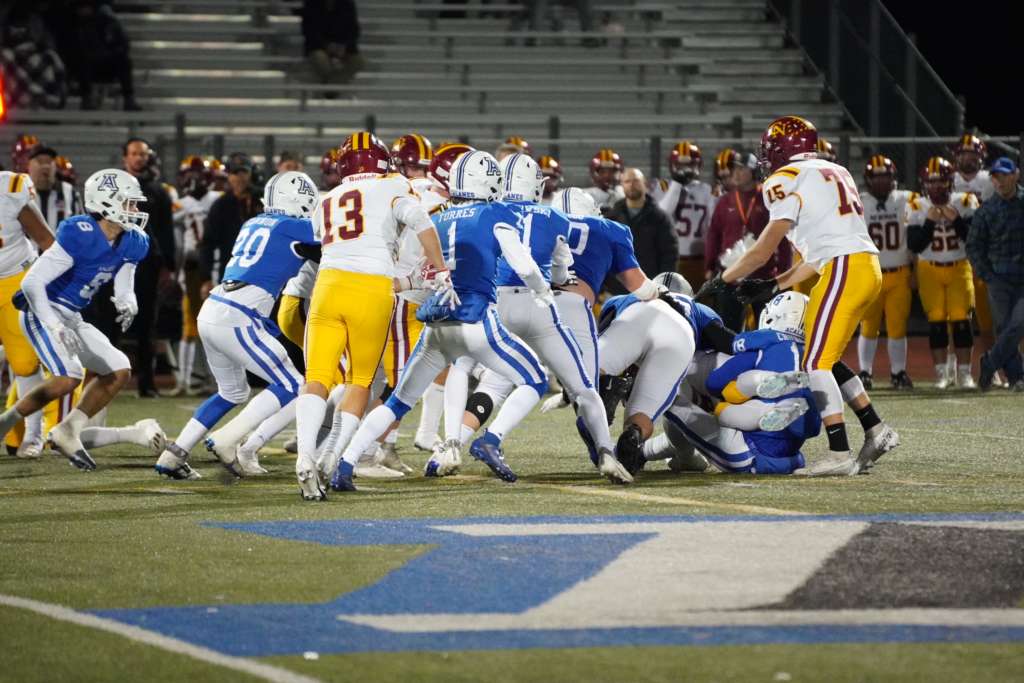 The defense was magnificent, particularly against the run. DTs Chase Caicedo and Brady Morrow dominated the middle. DEs Justin Zegarowski and Nathan Bennett were forces at the ends. LBs Jack Giorgianni and George Churchill were constantly in the backfield making plays. DBs, Coco Gannon, Ben Foox, Ethan Torres, Gavin Bender, and Kyle Bielawski held the back end and flew into any gaps closing them before the Cardinal backs could get through. In short, they were dominant. The only score the defense gave up was after they caused a fumble that bounced out of a Don's defender's hands and right to a Cardinal Newman offensive player in stride, who took it into the end zone. Talk about a bad break!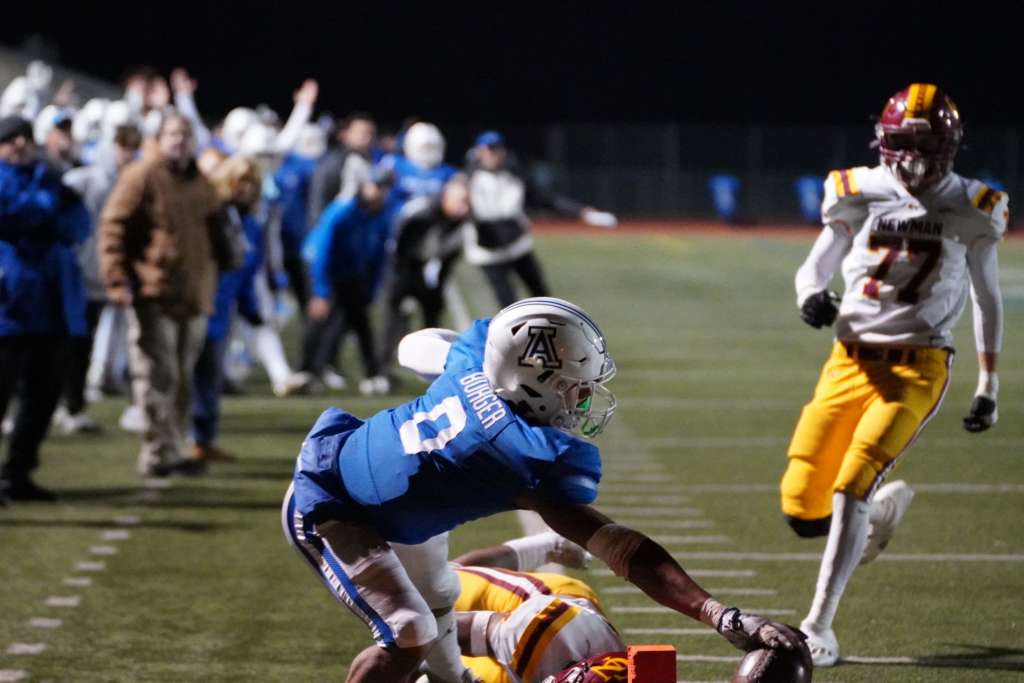 The offense struggled early and felt the loss of starting RG Victor Nicolacakis. C Henry Hagel, who was ill the entire week including Friday night persevered through the whole game and starting C Miller Smith filled in admirably at RG. Two turnovers stopped drives, one of which resulted in a pick-six, and a few drops and missed receivers ended promising opportunities. In the second half, the offense found its rhythm and produced two scores, but more turnovers and a missed FG were too much to overcome on a night where the opposition got every bounce to go their way.
The following stats and observations were provided by our fantastic statistician, Matt Delaney:

On paper and based on what I watched, our team and players were superior to Cardinal Newman in all aspects of the game.  Cardinal Newman played a tight game and was very disciplined with only 1 turnover and 3 penalties for 30 yards.

The Dons had a rough game with 5 turnovers, 7 penalties, some dropped passes, missed interception opportunities, and a missed Field Goal. 

Both teams had a combined 15 Punts (5 Dons & 10 Cardinal Newman)…this has to be a record.

Cardinal Newman did not score any Offensive Touchdowns.  Our Defense shut them down the entire game.  Cardinal Newman scored on an Interception Return for a TD and a Fumble Recovery for a TD, and then a game-winning 34-yard Field Goal.

The difference in the game was the 5 turnovers, from which all 3 Cardinal Newman scores resulted. 

The Dons held their top RB #10 Acevedo to 64 yards on 20 carries limiting him to 3.2 yards per carry, 2 Receptions for 9 yards, and no TDs.  #10 averaged 123.5 rushing yards per game prior to the matchup against the Dons.

The Dons also held QB #15, Matt Hilden, to 90 passing yards on 11 completions on 29 attempts (38% completion rate), when his average passing yards was 137 with a 55% completion rate before the matchup with the Dons.

Matt Delaney
Game Statistics Below:
Jake Boselli #4 (QB)
Passing: 8 of 15 (53%)
Passing yards: 130
Longest Completion: 43 yards
Avg Passing Yards: 16
Passing TDs: 0
Interceptions: 2
Fumbles: 0
Defensive Sacks: 1 for -2 yards
Sully Bailey #9 (QB)
Passing: 6 of 15 (40%)
Passing yards: 50
Longest Completion: 17 yards
Avg Passing Yards: 8
Passing TDs: 0
Interceptions: 1
Fumbles: 0
Sacks: 3 for – 32 yards
Ellis Burger (#0) – RB
Rushing: 18 for 85 yards
Longest Carry: 15 yards
Avg Carry: 4.7 yards
Rushing TDs: 2
Fumbles Lost: 2
Receiving: 2 for 6 yards
Punt Returns: 1 for 10 yards
Total All-Purpose Yards: 101
Scoring
Burger 15-yd Rushing TD
Burger 10-yd Rushing TD
MAXPREP PLAYERS OF THE WEEK
Overall: Justin Zegarowski
8 Total Tackles
3 Solo
5 Asst
1.5 TFL
Fumble Recovery
1 Pass Defended
1 QB Hurry
Offensive: Paul Kuhner
6 catches for 74 yards
2 Punt Returns for 36 yards
Defensive: Coco Gannon
6 Total Tackles, 3 Solo, 3 Asst., 1.0 TFL, 1 Fumble Caused, all 3 Solo tackles resulted in Cardinal Newman punting the ball back to the Dons.
Special Teams: Mason Michtlish
3 Tackles on Special Teams plays
Leading Tacklers (18 different players)
#8: Giorgianni: 2 Solo, 7 Asst, 0.5 TFL
#31: Zegarowski: 3 Solo, 5 Asst, 1.5 TFL, 1 FBR
#18: Churchill: 2 Solo, 6 Asst
#20: Gannon: 3 Solo, 3 Asst, 1.0 TFL, 1 FBC
Sacks
Morrow: 1 for -5 yards
Caicedo: 1 for -4 yards
Fumbles Caused
Fumbles Recovered
There is so much to be proud of for this historic season. There will be a full recap after the season-ending celebration in December. Go Dons!