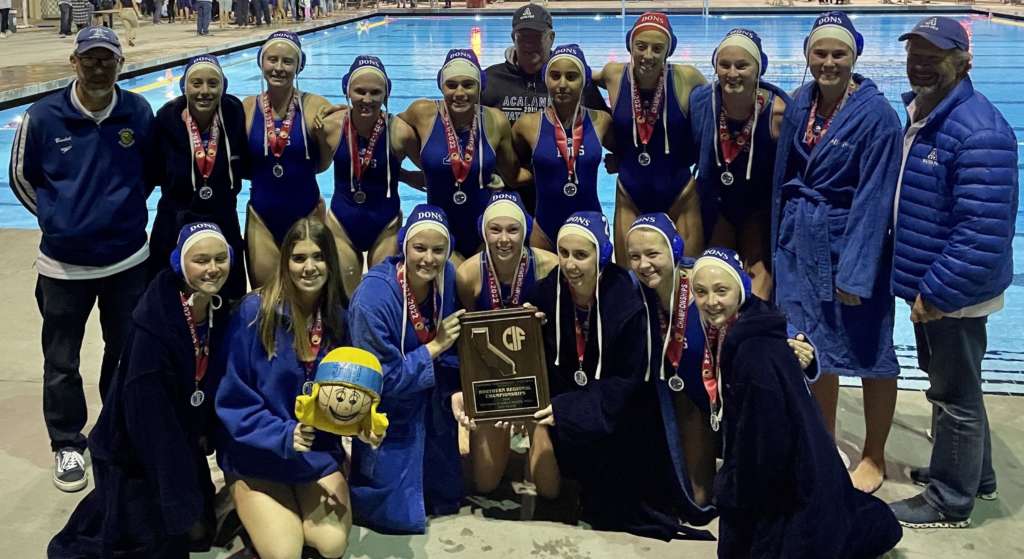 Our Acalanes Dons GWPT fell in a close game to the Arroyo Grande Eagles, 10-7 Eagles, in Arroyo Grande following a great week of play in the CIF-NorCal Girls Water Polo Division 2 Championships this week. The week started with our Lady Dons, the 2nd seed, easily handling the San Ramon Valley Wolves, 12-2, on Tuesday, at the Heaston Aquatics Center, setting our Dons up for a semi-final game against the Amador Valley Dons on Thursday. Our Dons handled the AV Dons in a pretty straightforward 11-4 win, positioning our number 2 seeded Acalanes Dons against the Lady Eagles of Arroyo Grande, the #1 seed in Division 2. As Arroyo Grande was seeded higher than Acalanes, our Lady Dons traveled last Saturday to battle the Lady Eagles at their home pool in Arroyo Grande, about 4 hours south along the Coast near Pismo Beach.
On a beautiful Saturday evening along the Coast, the game was on! Acalanes started off quickly with a goal by Heidi Heffelfinger (Sr) (assist Olivia Williams (So)) off a power-play drawn by Heidi. The Dons were up most of the period until a goal with 2:25 left in the 1st by AG. Despite some great plays on both sides, the score remained tied until the AG Eagles scored with 7 sec. left in the 1st to go ahead 2-1 at the end of the 1st period. AG scored early in the 2nd to go up 3-1, but a great shot by Sara Archer (Jr) (Unassisted) 20 sec. later brought our Don's back within 1 at 3-2. From there, things went a bit downhill for the Lady Dons, with the AG Lady Eagles scoring 4 of the next 5 goals, 2 on power plays given up by the Dons. The one Dons score was credited to Maize O'Haire (Jr) on an assist from Sara Archer. Score after 2, 3-7 Dons-Eagles. 3rd period started off quickly for the Dons with a goal by Sarah Potter (Jr) (assist Archer (1,2)), to bring the score to 4-7. AG goes back up 1 a minute later, but 12 sec. after, Heidi draws an exclusion, then scores shortly after on an assist by Potter to bring the score to 5-8. The teams went back and forth until 1:32 remaining in the 3rd when Olivia Williams rocketed a solo shot past the goalie to bring the score to 6-8.
Both teams were at a stalemate until AG was able to score on a power play halfway through the 4th to go up 6-9, and our Lady Dons were unable to recover, despite some remarkable play by Heidi at the very end of the game, including another goal by Heidi (assist Maize) and a steal from the goalie, unfortunately falling to the Lady Eagles by a final score of 10-7.
Congrats to Arroyo Grande! Although our Dons finished 2nd, we won the "Spirit" of the game, with many fans traveling 4-hrs plus to support our Girls & our SENIORS! Thanks to Mary Beth, her friends from UCSB, the Springbrook Coaches, and Friends of Acalanes, for showing Arroyo Grande WHAT ACALANES SPIRIT IS ALL ABOUT!
1st Shout-out: Stars of the Game
Heidi Heffelfinger – 3 goals, 1 steal, mauled all season. We can't wait to follow you at Harvard!
Sara Archer – 1 goal, 2 assists; Great season Sara!
Sarah Potter, Maize O'Hare, Olivia Williams – 1 goal, 1 assist
2nd Shout-out:
Audrey Cox/Defense – We can't forget the great play, tonight and all season, of our defense, led by our amazing goalie Audrey Cox! Great job Audrey for your leadership all season, it's really fun watching you play and grow as a leader of this team! We can't wait to see you in goal next season!
Sarah McCarthy – Established herself as a solid defensive player in front of goal at the set position, while also valuable on the offensive side. Keep it up Sarah!
3rd Shout-out:
Sophomore Olivia Williams, up from Amigas last year, who showed poise starting all season as an offensive/defensive specialist, feeding Heidi, along with the other shooters, as many passes as she could, while helping to keep shooters away from Audrey. Olive had a big day, joining the team after winning the North Coast Section Cross-country Finals, finishing in a course record-tying time of 16:15.2, leading the Lady Dons to a 3rd place team finish, qualifying them for the State XC finals. Good luck at States Olive!
Final Shout-out: To our Seniors!
Seniors Heidi Heffelfinger and Franny Daughters played their last game in Acalanes blue tonight. Even with the loss, Heidi and Franny left the pool with a smile on their faces and the support of all teammates, family and friends in attendance. While the Lady Dons will miss Heidi and Franny's presence in the pool, what the team will really miss is the leadership in- and out-of the pool, the passion for the team that both players have brought, and the outstanding character of both Heidi and Franny. We will all miss having Heidi and Franny around, but we wish them well and look forward to keeping up with their future successes. WE LOVE YOU HEIDI AND FRANNY!