When playing a sport, an important part of a team's success is the people who are there to support them. Student sections might be the biggest supporters there are. The Dons feel that at all Dons games and events. Seeing a big part of your student body cheer you on when you are working hard at something is a big motivator and can sometimes change the outcome of a game.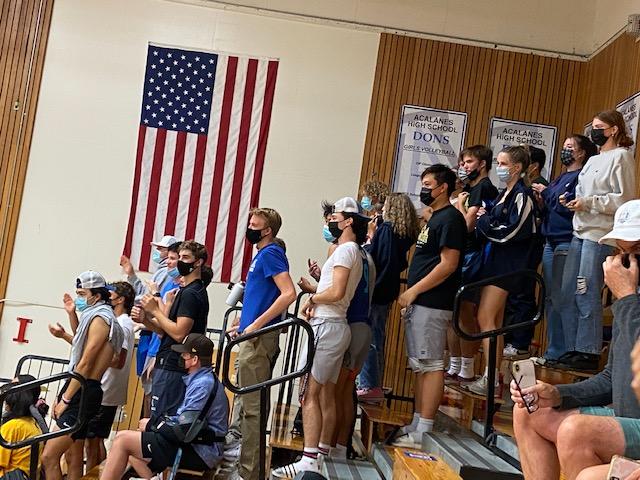 Acalanes students of all grades gathered together to cheer the Dons at all sporting events and it's GREAT! Ultimately, athletes, coaches and fans agree that large student sections create a community of involvement throughout the school. The energy level our student body brings to contests makes the environment more exciting and provides a climate that is fun for everyone.
The most important part of any student section is unity, and that begins with the presentation. A wall of  blue  represents pride and cohesiveness, while sending a chill down the spines of opposing athletes who show up to play in enemy territory.  What makes the Dons student section  a great place to be the is cheering on the team through the good plays and bad plays. For the players on the field or court or pool, hearing their friends cheer them on can really make a difference.
ASB and Class leaders (lead by Katherine Walton, Acalanes Activities Director) have done a great job with theme nights, pep band, DJ and an extraordinary Homecoming week (insert standing ovation here) this year. The students have excelled in theme nights this football season. It's one thing to wear your team's colors and jerseys, but every now and then it doesn't hurt to spice things up.
COMING Up: October 15-Hereos Night-WEAR BLUE October 22 Cancer Awareness-WEAR LAVENDER November 5 SENIOR NIGHT-WEAR BLUE or anything Acalanes
Sporting events are supposed to be fun for all, so keep the cheers towards rooting on the Dons and not completely bashing the opposing squad. Trash talk always happens at sporting events, but remember, you're representing your school, so represent it in a positive light. Remember we are DONtastic!