Cougars could not handle the Dons!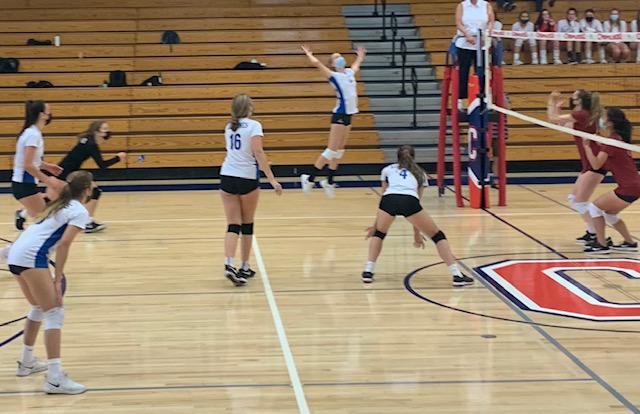 The Freshman Girls Volleyball team maintained their undefeated status this week, handily beating Alhambra in two quick games on Tuesday and crushing the Campolindo Cougars, also in two games on Thursday.
At Campolindo on Thursday, the girls brought their A game and an enthusiastic cheering section amplified by the Acalanes Boosters own Jane Smith.
In game one, Addy Ames, Fiona Roux, Emma Seelenbacher and Grace Gallacher each racked up service points. Back row players Lily McKinney, Fiona Roux, and Liza Gullberg's serve revive defense kept Campo from getting traction and Addy Ames, Emme Cain, Grace Gallacher and Mimi Maycock delivered formidable kills at the net, with the Dons winning 25-13.
In game two, Grace Gallacher, Skylar Platto, Fiona Roux, Emma Seelenbacher and Addy Ames kept the team serving strong. Fiona Roux, Lily McKinney, and Liza Gullberg kept the balls in play with energetic digs and assists. Emma Seelenbacher gracefully set to the front row hitters Grace Gallacher, Emme Cain, Addy Ames, Addison Jones and Mimi Maycock who continued to confound the cougars with stealth kills and sneaky tips at the net, delivering the Dons their final win at 25-17.