The boys in blue were all over the Mount Diablo Red Devils on Friday night in Lafayette. A winter chill was in the air as the red hot Dons came out firing in the first round of the NCS Playoffs.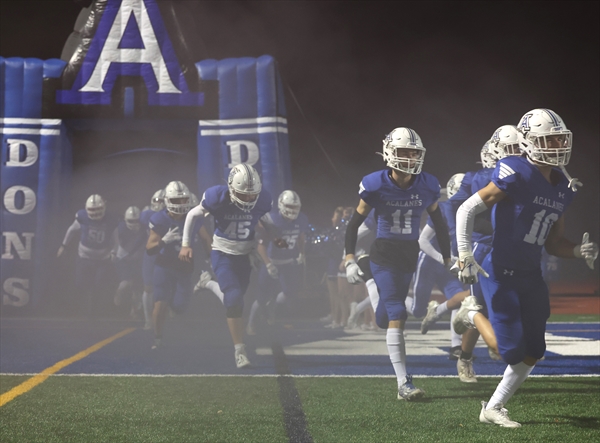 The Dons defense contained the most decorated running back in Northern California this season, Hershel Turner Jr, holding him to 46 yards rushing and 47 yards receiving. The boys were swarming to the ball all night long.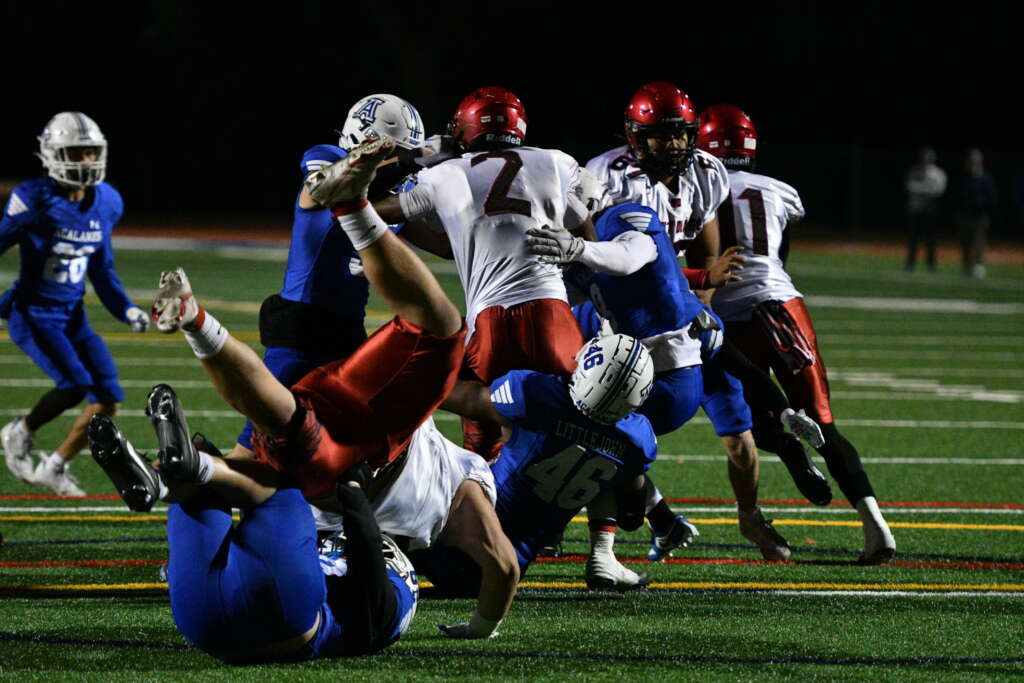 Trevor Rodgers got the scoring started after grabbing a short pass from Sully Bailey and taking it 51 yards to the house for an early 7-0 Acalanes lead, after the extra point.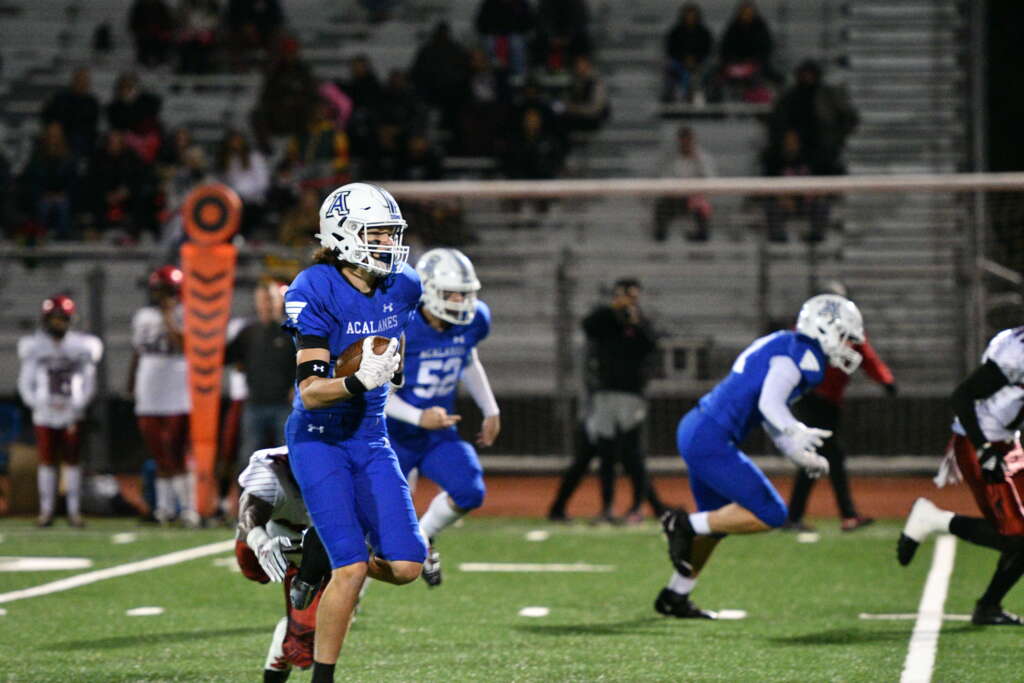 Not to be outdone, Jake Boselli intercepted a Red Devil pass on the next Mount Diablo possession and returned it 38 yards for his second pick 6 and third interception of the year. Boselli then kicked the extra point to give the Dons an early 14-0 lead. Boselli went 8-8 on extra points for the evening.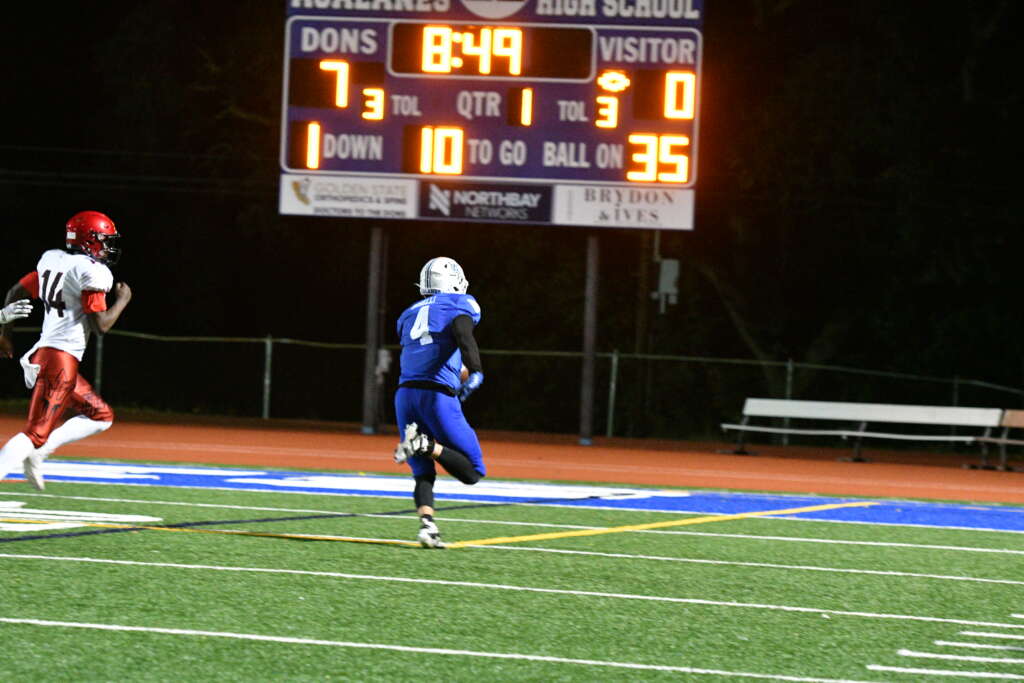 Sully Bailey then threw touchdown passes of 15 and 37 yards to Wide Receiver Henry Souza for back to back touchdowns.  Sully threw for 3 touchdowns and Souza caught two of them. The lead was 21-0 after one quarter and 35-6 at halftime.  The route was on!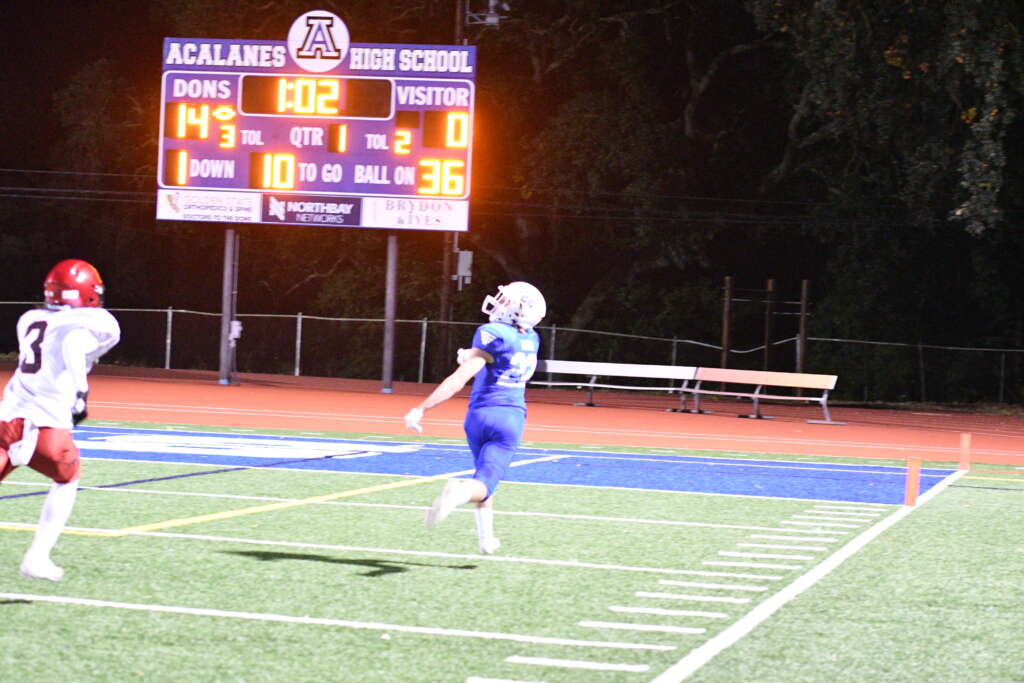 Offensively, Mount Diablo could not get it going against the relentless Acalanes defense. Jack Giorgianni led the team with 7 tackles. Colin Malmquist and Drew McKenzie added 6 tackles and a sack each to the team's overall dominant defensive performance.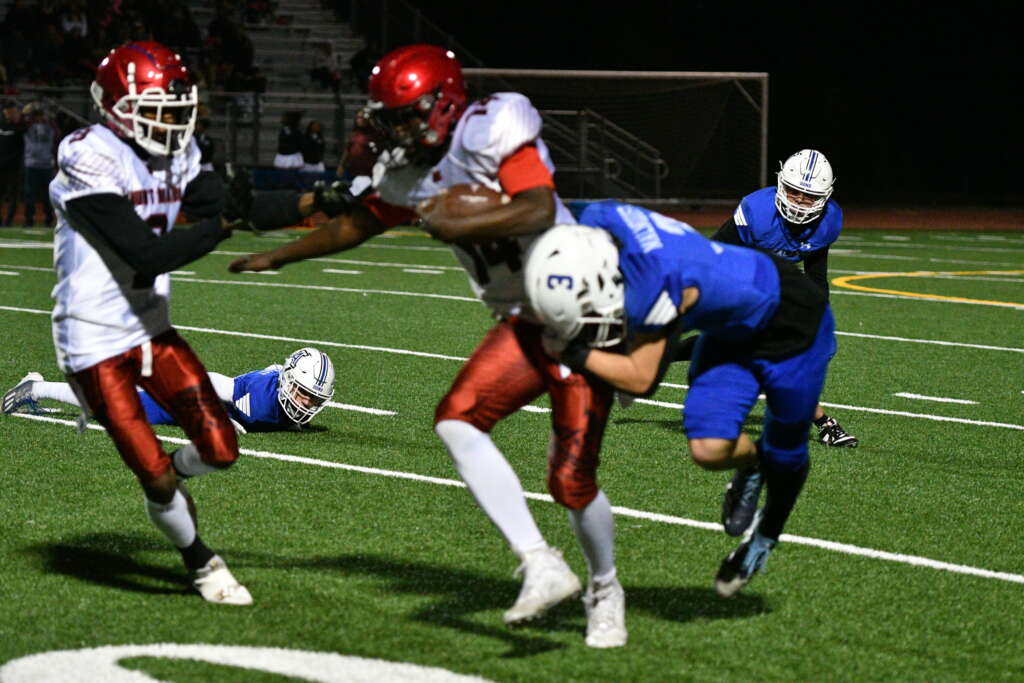 All told, 24 Dons made at least one tackle during this team victory. Mount Diablo was held to 187 yards of offense. Defenders like Deonte Littlejohn, Dylan Murphy, Chase Caciedo, Brady Morrow, Brady Wall, Aiden Yates and Walker Smith successfully battled the larger Red Devil offensive line the entire game.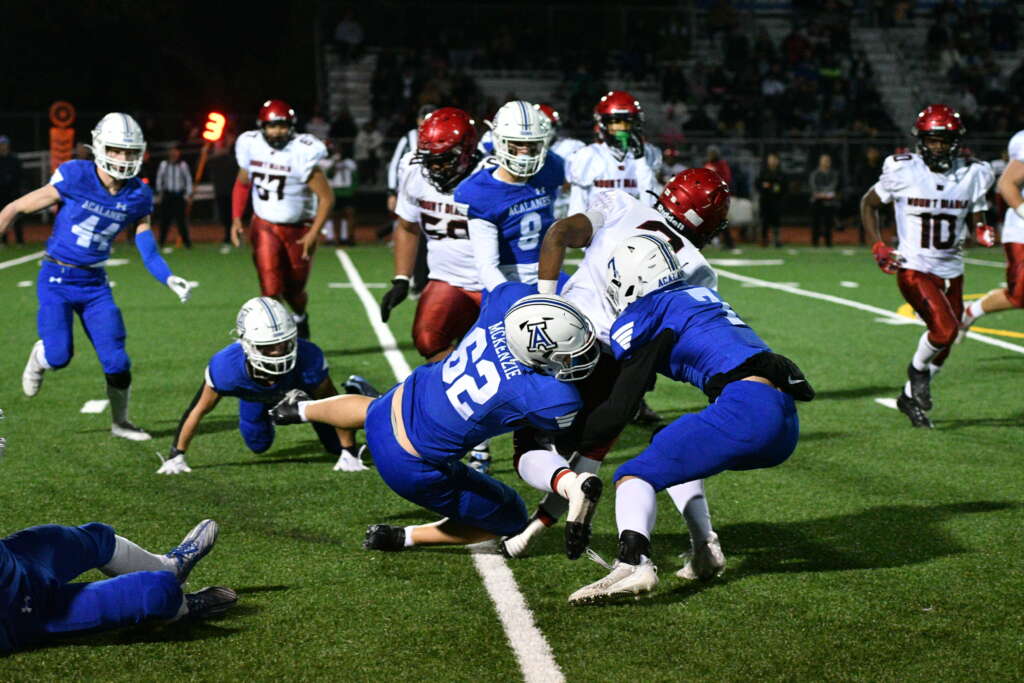 Paul Kuhner and Wyatt Cooper added interceptions, to help the boys win the turnover battle 3-0.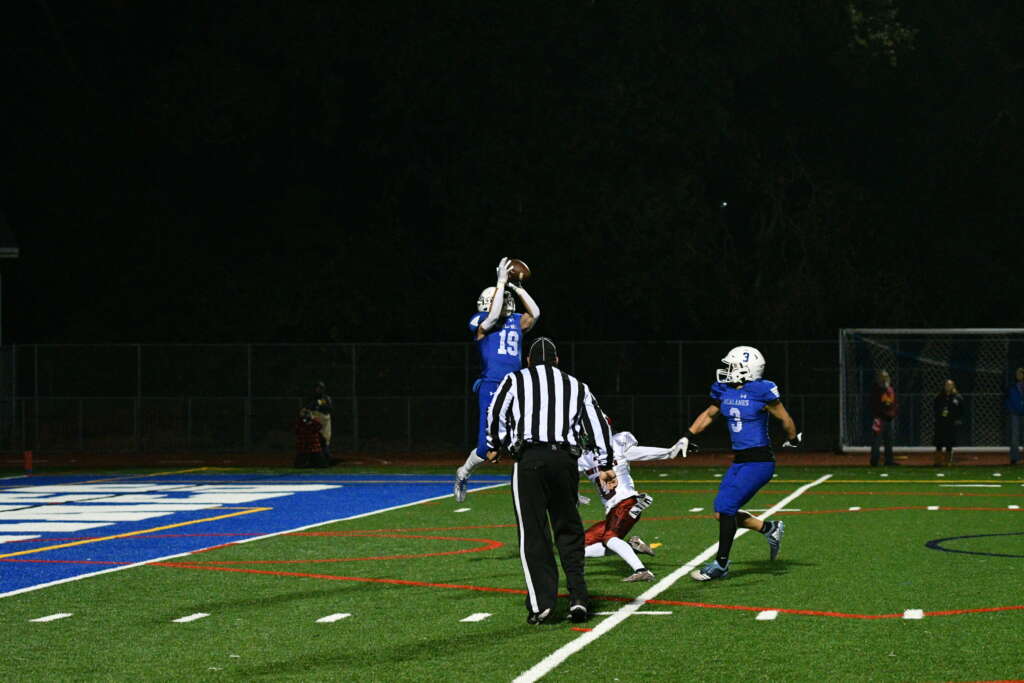 The coaches even got JV and Freshman players into the game in the 4th quarter. Two of the coolest moments were Senior QB Jake Boselli throwing a completed pass to his brother, Freshman Wide Receiver Jackson Boselli and Freshman QB Tyler Winkles throwing a touchdown pass to Senior Wide Receiver Cooper Edelman for a 17 yard touchdown in the final quarter.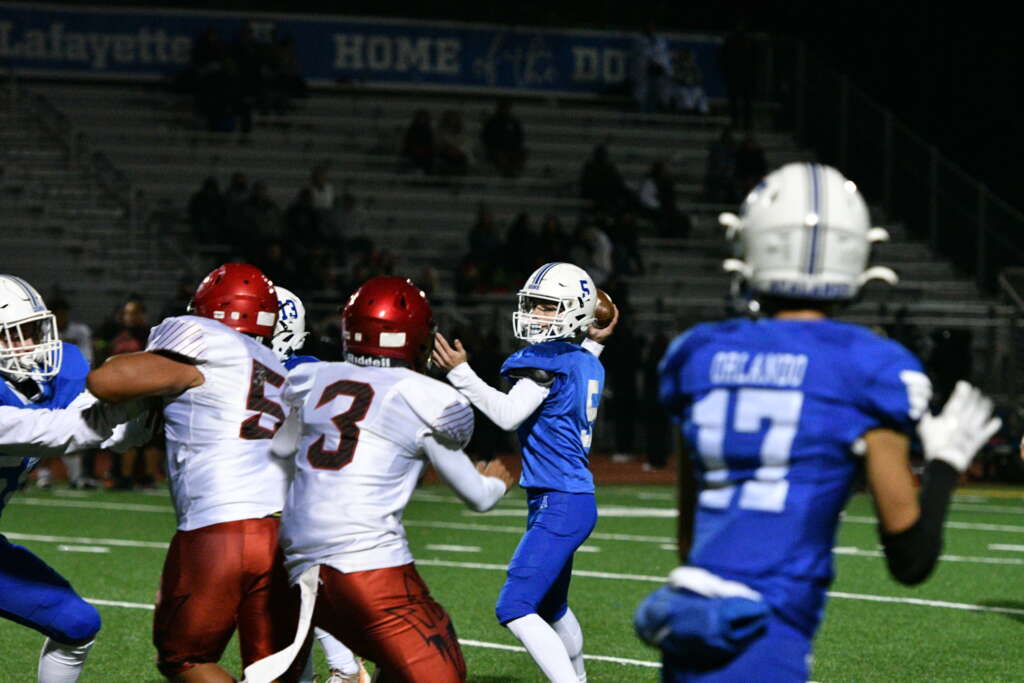 The Dons move to the semi finals this Friday, at home, against the Vallejo Redhawks. The winner of this contest moves on to the Division 4 NCS Championship game the following week.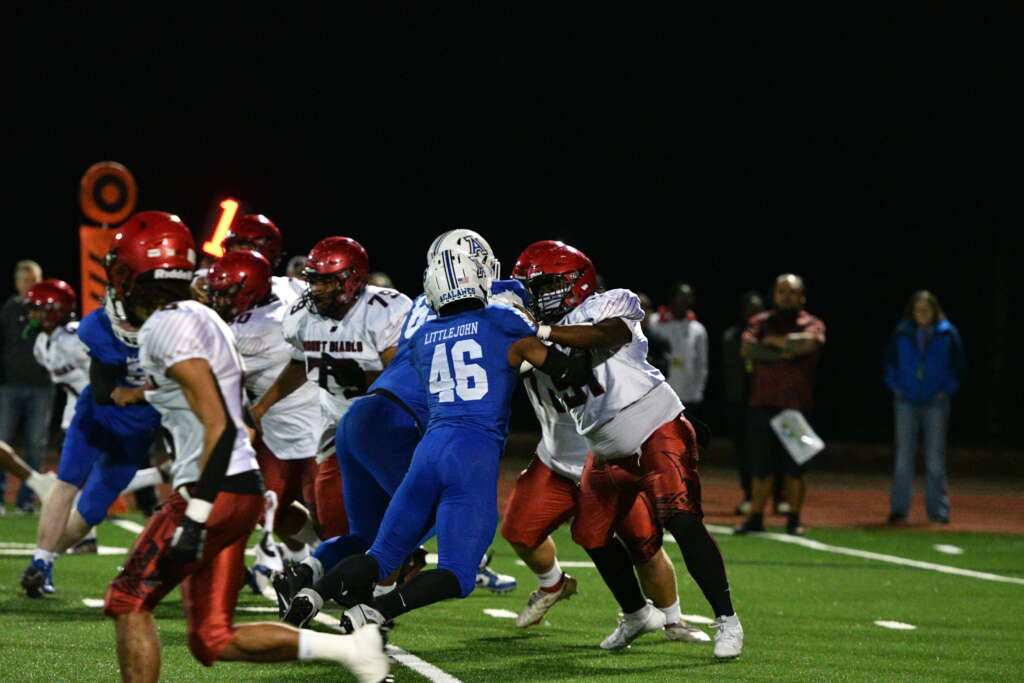 This will be the last home game of the year so mark the calendars, get your winter gear ready and come out to see the final home performance for this squad. The boys deserve it, the school deserves it, the fans deserve it. We all deserve it! Let's go Dons!! Finish strong boys!!!