The first half began in a balanced way with both teams possessing well, seeing Offensive and Defensive action. As the half progressed, Acalanes seemed to gain momentum, driven by goals #2 and #3 from Zach Appel, plus Cooper Olson and Marshall Anderson. The second half kicked-off with Acalanes up 5-3 and seem to pick up where the first half ended. However, Piedmont was able to capitalize on a 2-minute, non-releasable penalty and tie the game up 5-5. From then on, it was an intense back-forth with both teams trading goals. Regulation play ended with both teams tied 8-8. The game went into overtime and then on to double OT. With 2:46 remaining, Piedmont's Soren Dixon slid one in to give them the unfortunate win over Acalanes 9-8.
Some observations about the game. Intensity and selflessness ruled the day. That was as intense a lacrosse game as I have seen in a longtime. Our boys fought hard for all 53 minutes and 14 seconds of that game but did so as selflessly as I have ever seen them play. David DePaepe and Owen Estee exemplified the teams drive, playing in 5th gear all night long. They're baaaack The return of Zach Appel and Connor Faust to the line-up was incredibly energizing for the team. Zach Appel had an outstanding 4 goals on 6 shots. Foooox! Ben Foox continued to shine, winning 13 of 22 Face-offs. Better than a Doublemint Commercial. Dylan Olson had 4 of our 5 Assists on the night, while brother Cooper had 2 goals on 4 shots. Shooting matters, but sometimes quantity trumps quality.Acalanes was infinitely more accurate than Piedmont, scoring 8 goals on 18 shots (44.44%) to their 9 goals on 60 shots (15%). Defense kept us in the game. George Churchill (5 GB's!), Connor Faust, John Cain, Colin Malmquist and Eitan Romick gave a mighty effort keeping Piedmont at bay for all four quarters. Brick Wall Blake. Goalie Blake Chehlaoui had as excellent a game as I've ever seen him have. 23 saves on 32 shots-on-goal (71.8%) coupled with perfectly placed clears and solid communication made myself and his whole family immensely proud. The season ended with each of you giving it your all, leaving it all on the field.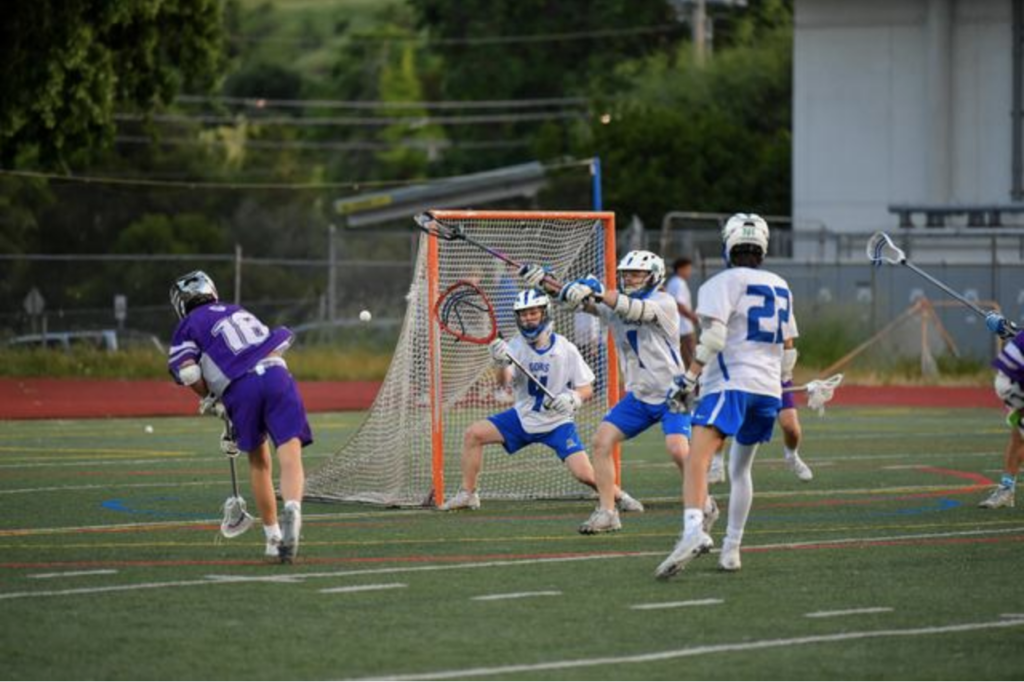 I hope that our players, coaches, families and students can look past the initial shock and disappointment of having a clearly winnable game and chance at playing in the Championship slip away and take pride in the amazing accomplishments these young men and their coaches achieved this season. The teams final record was 16-3! The sum total of their three losses was by 4 goals. One of the three loses was in OT and another in Double OT. Sophomores and Junior up-and-comers experienced material game time, saw their skills elevate and made meaningful contributions throughout the season. Some Seniors newer to lacrosse saw field time and were a core part of the positive team spirit throughout the season. Finally, parents and coaches were fantastically positive and supportive.
Thank you parents for always showing up, coordinating carpools, working the score board (such a thankless job), hosting great pre-game events and always being loud! And a special THANK YOU Ali Schwartz, Paul Faust, Eric Hedrick and Lorne Smith for your years of tireless dedication, work behind the scenes and never-ending leadership. Much love, pride and incredible memories! Let's Go Dons!!