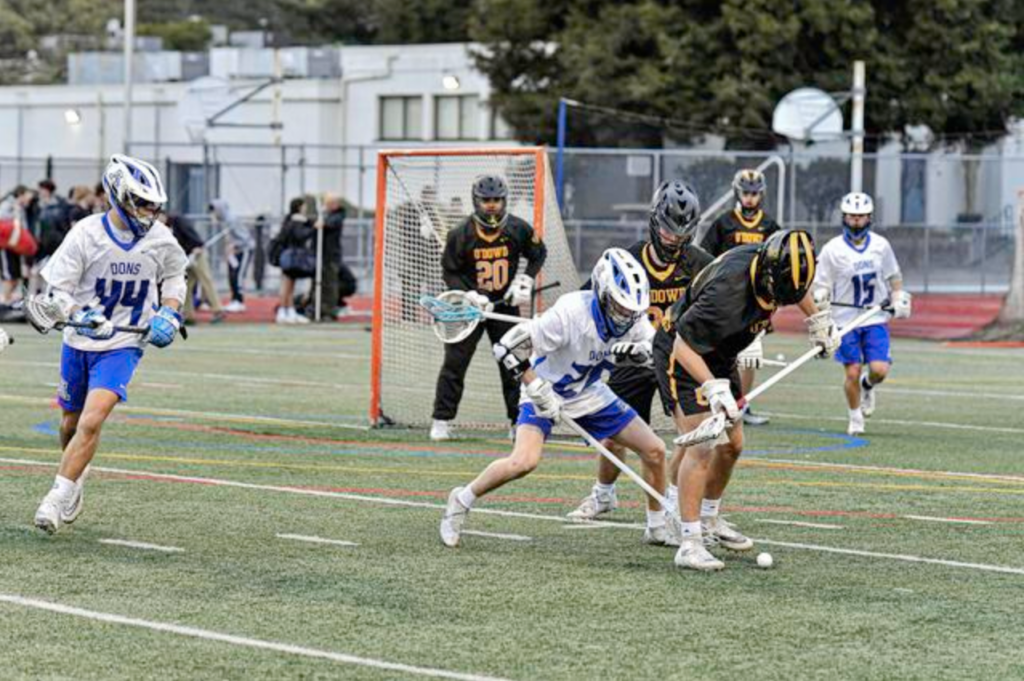 This past Tuesday the Acalanes Dons Varsity Lax team hosted Bishop O'Dowd. The Dons' first quarter offensive assault began with a strong shot from #8, Sophomore Marshall Anderson. Anderson's initial salvo was quickly followed up by strikes from Dylan Olson, and Cooper Olson, and an impressive takeaway and score by #22, Senior D-Pole/LSM John Cain. With that, the Dons soon had an early 5-0 lead. Undeterred, O'Dowd answered back with four goals of their own and came within 1 point of the Dons. The second quarter saw an excellent Defensive display by the Dons with crucial ground balls by George Churchill and Connor Faust as well as a key save by Senior Goalie Blake Chehlaoui. On the Offensive side of the ball, #5 Senior Joey Bettencourt, ripped a sweet laser past O'Dowd's stellar keeper Bear. By Half, the Dons were up 7-4.
The Dons began the third quarter a man down and BOD was able to capitalize on that, closing the scoring gap to 2 points. After that, it was All Dons, All Day. Seniors Owen Estee, Dylan Olsen, Zach Appel, and Blake Chehlaoui all displayed excellent lacrosse in the second half. #44 Estee amassed an impressive 4 goals and 4 assists, while #28 Olson racked up an amazing 7 goals, #15 Appel showed the crowd how ball movement and smart lacrosse is played and #4 Chehlaoui had 3 key stops in the cage for the boys in white.
In the final quarter, Anderson put another between the pipes amassing his 2nd goal of the night. #21 Senior Riley Baker got in on the face-off action. #19, Sophomore Griffin Rotundo got in on the action ripping a pair of shots and #13 Sophomore Ethan Pancost clocked in a sweet goal for the Dons. Sophomore Val Grossi jumped in the cage as well and had an excellent stop. Finally, Dylan Olson sealed the blow-out with the Dons' final goal of the evening, as the Dons downed BOD 18-7.
One final, but important shout-out to FOGO Ben Foox (Foooox!), who won a tremendous 17 Face-Offs! Ben continues to impress fans and teammates with his elevated skills and energy.