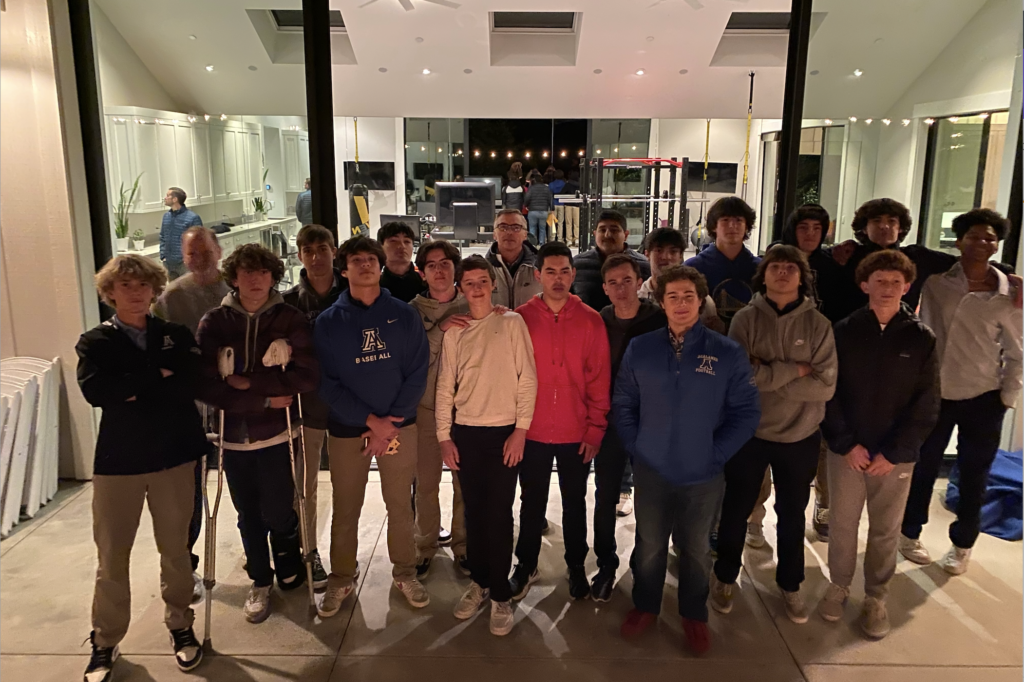 The Dons JV football team enjoyed a special end of the season party at the home of Will Roberts and his parents' Matt and Katie.  Coaches Randy Henderson, Bill Frazier and Francisco Trejo presented gifts to Team Mom's Gina McKenzie and Kristie Darin, and Gina and Kristie returned the favor with gifts to the coaches from all of the JV families.  Much love was shared.  As Coach Frazier emphasized to the players at the end of the festivities, we are all very fortunate to be part of such a wonderful community!
Ordinarily, an Acalanes student-athlete may only receive a letterman jacket with the school's Block A when the student-athlete makes a varsity team. JV player Gustav Wittgenstein is a foreign exchange student from Germany, which means he will not have an opportunity to play varsity. Gustav really wants a letterman jacket. So the school has decided to make an exception. Gustav will get his letterman jacket. Pretty darn cool.
The JV players were also celebrated for their accomplishments on the field this season. Francisco praised the offensive and defensive lines and called them the heart and soul of the team. Incredibly, the O Line only gave up three sacks all year. Shout out to the boys in the trenches – Drew McKenzie, Eli Laird, Luca Premo, Andrew Tresser, and Jack Manful!
Coach Frazier presented a special note from Dons' statistician Matt Delaney honoring Lucca Debiasse for her remarkable kicking success. Lucca was 19 for 19 kicking extra points this year!
Individual award winners were:
Andrew Tresser – Best Lineman
Brady Wall – Most Improved Defensive Player
Jack Manful – Coaches Award, Defense
Eitan Romick – Coaches Award, Offense
MVP Defense – David Roux
MVP Offense – Niko White