After their win 42-0 vs Concord, your 10-1 Acalanes Dons have now reached the 10-win mark for the first time since at least 2004, and also reached the second NCS semi-final in Coach Floyd's Acalanes tenure, the first that will be played at home, right here in Lafayette on our field!
The game is at home due to the Dons' stellar 9-1 regular season which got them a #2 seed in the NCS Division 4 playoffs. We should not take this privilege for granted and should fill the Acalanes Football Stadium this Friday, November 18, and bring the noise!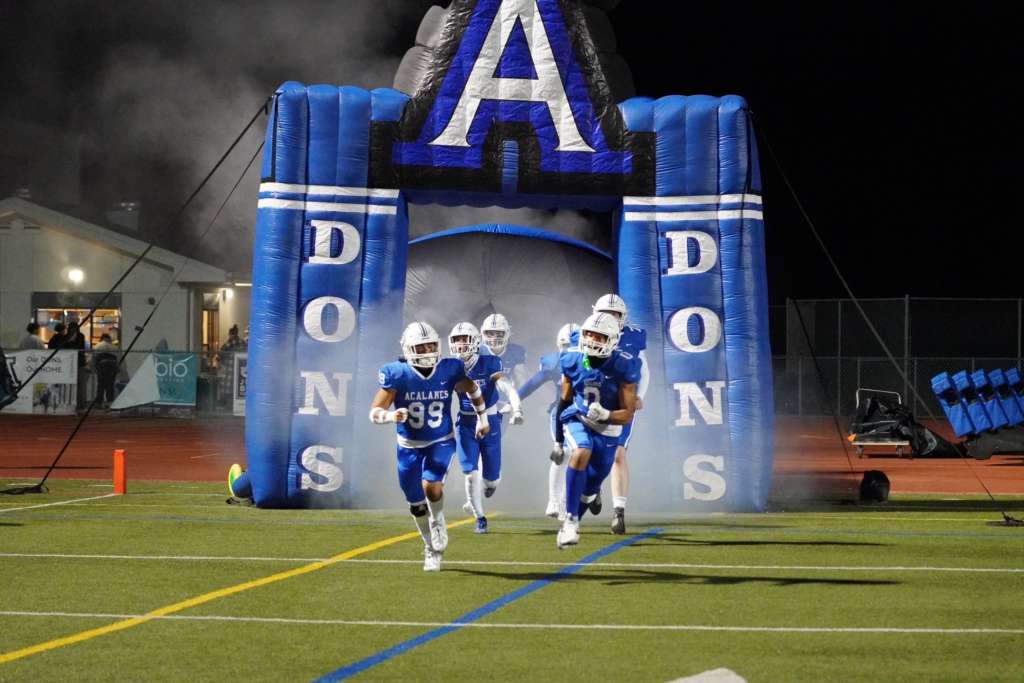 Before the Dons moved on to the semi-finals, however, they were faced with a 9-1 Concord team who had no intention of letting the Dons off easily. Coming into the game, the Minutemen were averaging well over 200 yards a game on the ground, led by their tailback, Monte Beam. So it was no surprise that Concord's first three plays were indeed running plays to Beam. When an illegal procedure penalty put them in 2nd and long, they were finally forced to pass. After a couple of short completions put them into fourth and short, the Minutemen revealed another aspect of their strategy this night, and that was no punting at all, regardless of their position on the field. While they were successful in converting their first fourth down effort, their failure on the second attempt, after a crushing tackle by LB Jack Giorgianni, gave the Dons the ball at midfield.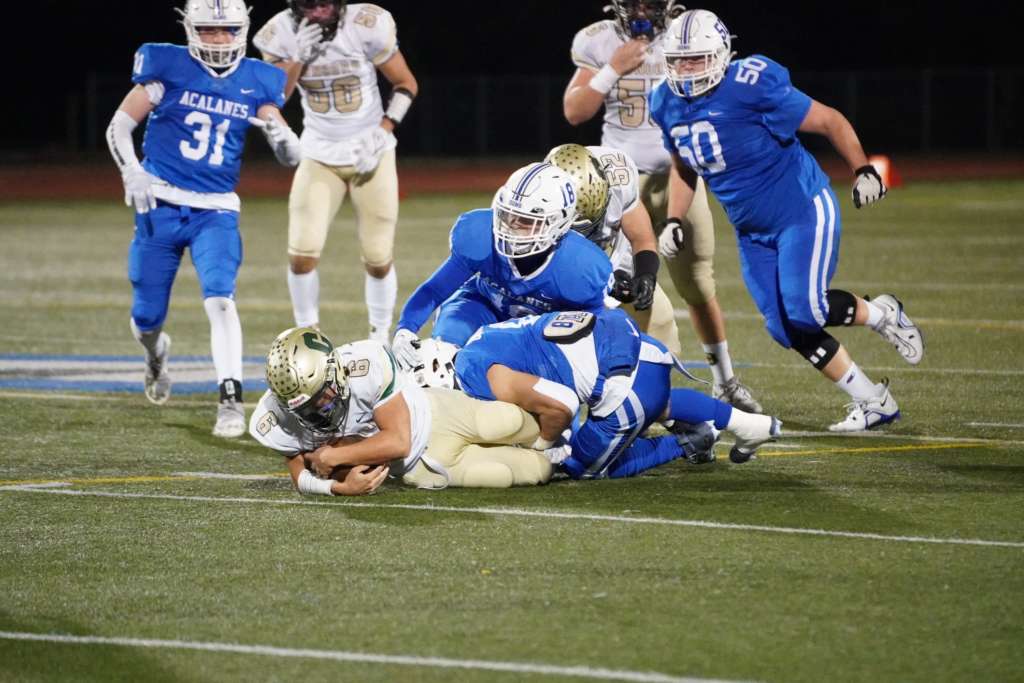 It didn't take Acalanes long to capitalize on the opportunity. On the third play from scrimmage, QB Sully Bailey calmly stepped back and fired a bubble screen to WR Jake Takeuchi, and he was off to the races. Cutting back towards the middle and following his blockers down the field, Jake brought the ball 46 yards all the way down to the Concord 10-yard line. On the next play, RB Ellis Burger burst through a hole blasted by a double by RT Trevor Carrillo and RG Brady Morrow, following LG Tyler Murphy and LT Marcus Julian, down to the one. Finally, Bailey got in behind the left side, Murphy, and Julian, into the end zone on a QB sneak for the first score. Dons 7, Minutemen 0.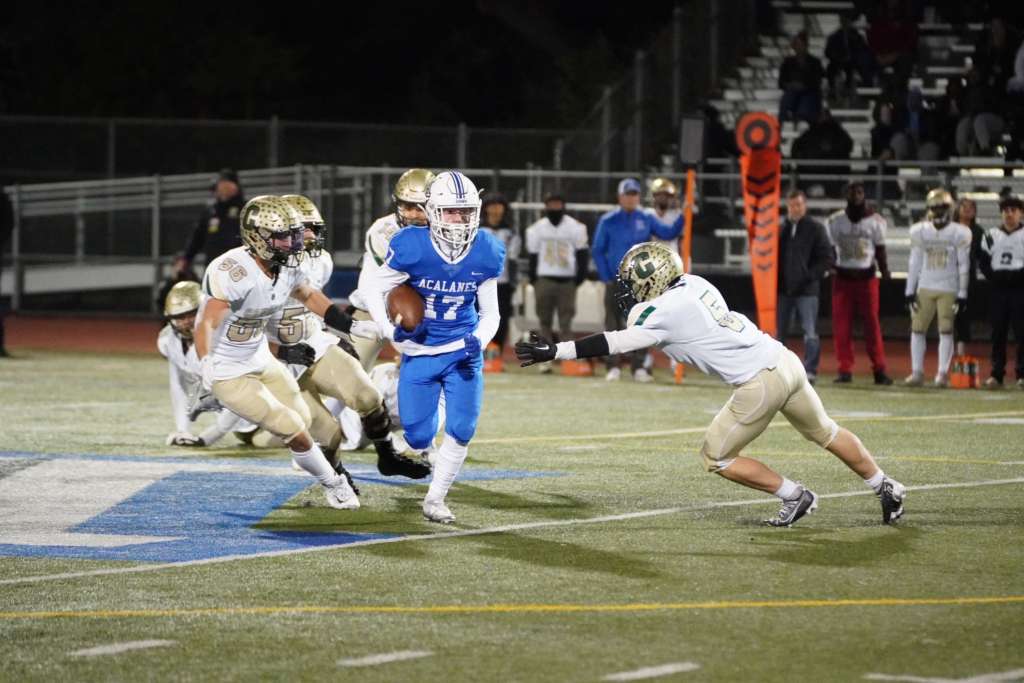 When they got the ball a second time, Concord went back to the same formula of inside runs and short passes. After getting an initial first down, their fourth down attempt was batted away by SS Coco Gannon, and once again the Dons had the ball at mid-field. This time, however, the Dons weren't able to convert the change of possessions as the Minutemen picked off a long pass deep in their territory. Going back to their patented run-oriented offense, Concord was able to move out of the shadow of their own end zone closer to mid-field. It was here when Concord decided to try a little "trickeration". They handed the ball off to their running back who then turned around and threw a pass back to the quarterback all the way across the field. Fortunately, CB Ethan Torres was not fooled and picked off the errant pass and took it all the way back for, what looked like a pick-six. After a penalty on the return negated the score, the Dons took over on the Concord 30-yard line. Two hitch routes to Torres from Bailey got the Dons down to the 1-yard line, and Burger once again followed Murphy and Julian, through a hole opened by C Miller Smith, Morrow, and Carrillo, in for his second TD of the night, Dons 14, Minutemen 0.
Once Concord got the ball back, the Dons' defense was ready to shut the door on the running game. The next four plays went, run right for 5 yards (stopped by DB Ben Foox, and LB Nathan Bennett), run left for 1 yard (stopped by LB Justin Zegarowski), bubble screen right for 1 yard (stopped by SS Coco Gannon), and on fourth down and 3, stopped short by Giorgianni. It was Acalanes ball once more, but not for long. A fumble on a 13-yard completion gave the ball back to Concord, but that only lasted one play. The first time the Minuteman QB tested the Dons DBs with a cross-field pass was the last time, as Torres once again stepped in front and picked it off. There would be no penalties to stop him this time, however, and he took it all the way back for a true pick-six, Dons 21, Minutemen 0.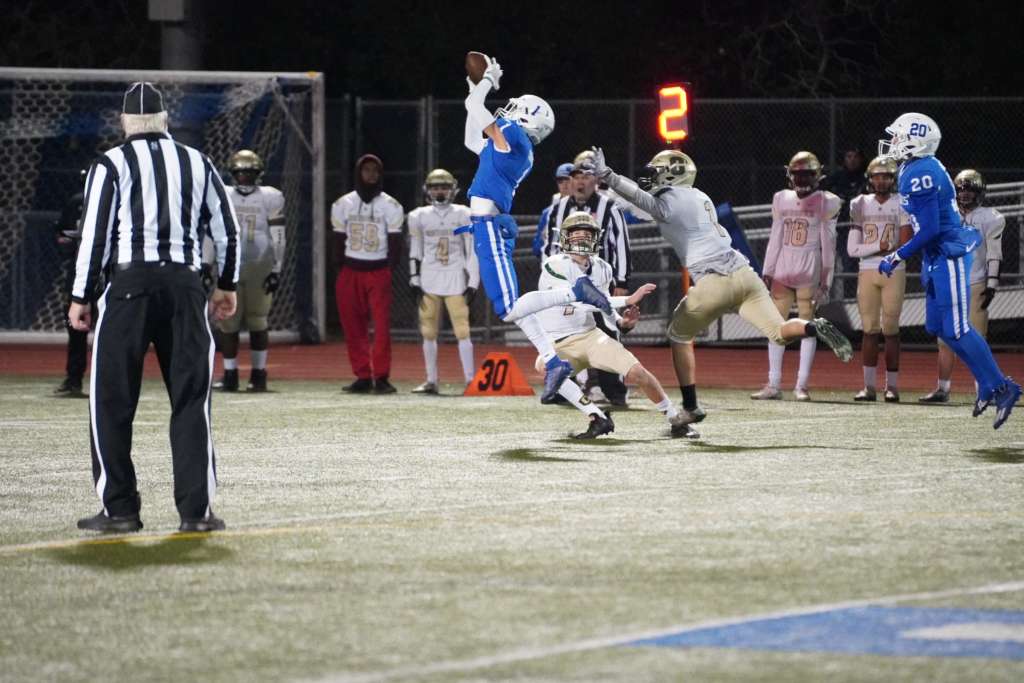 Falling behind may have made some teams change tactics, but the Minutemen hadn't got to 9-1 by wavering from their strengths, so they continued on the ground. Rush for 5, rush for 0, rush for 4, and it was fourth and short once more. This year's Dons' defense is tough as nails on short yardage, and Bennett came crashing through and dropped RB Beam for a loss, turning the ball back over to Acalanes. A 23-yard completion from Bailey to WR Trevor Rogers and a holding penalty got the Dons into the Red Zone where once again, Burger found pay dirt, this time wide around the left side behind the left side of the line, Julian and Murphy, as well as some great blocks from Rogers and fellow WR Paul Kuhner, Dons 28, Minutemen 0, at the end of the first half.
Concord started the second half with an attempted onside kick which was fielded by LB Colin Malmquist and returned deep into Minutement territory. The Dons only took a couple of plays to cash in, 8 yards from QB Jake Boselli to Kuhner, 9 yards from Boselli to Burger, and then the final 20 yards from Boselli to Burger for the score. Dons 35, Minutemen 0.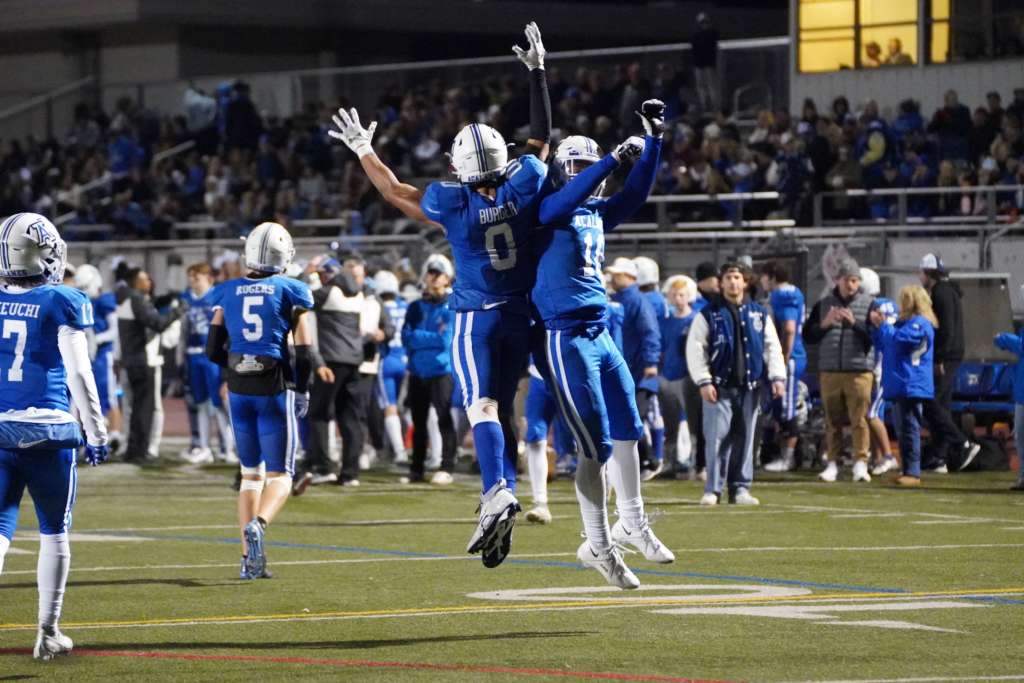 Things didn't get much better for Concord, as on their next possession Bennett hit RB Beam from behind, causing a fumble that was recovered by DT/LB Tyler Worthington, and the Dons were once again in business. Two completions from Boselli to Kuhner, including a 22-yard jailbreak screen, got Acalanes in position again to hand it to Burger and he knew what to do. This time running to the right side behind newly inserted C Henry Hagel, Smith (now at RG), Carrillo, and a pulling Murphy, 16-yards for his 5th TD of the night, Dons 42, Minutemen 0. With the running clock rule in NCS, the rest of the game went quickly without any further scoring, and the Dons moved on to the semifinal round with the huge win at home.
MAXPREP PLAYERS OF THE WEEK
Overall: Ellis Burger
12 Rushes for 61 yards
1 Reception for 20 yards
4 Rushing TDS
1 Receiving TDs
Points Scored: 30
Offensive: Jake Boselli
Passing: 5 for 5 (100%) for 65 yards and 1 passing TD (with a running clock)
Defensive: Ethan Torres
2 Interceptions for TD (1 called back for a penalty)
Special Teams: Zach Murdin
NCS Semifinal this Friday night, November 18, at 7p, everyone needs to be there, and I mean everyone, students, parents, alumni, teachers, administrators, friends, neighbors, and locals, all loud and proud! Fear the Blue! Go Dons!