Dave Matthews Band has the famous lyric… Life is sweet, but sweet for certain' Amen brother Dave!
Football has taught my sons countless things. Miller is graduating in a few months, and it is hard on me. It is. But Dons football has taught him well. Mostly lessons about teamwork, respect, and discipline. About perseverance, humility, and persistence. About being a part of something bigger than themselves. And then *blink* high school football is over within 4 years… life is sweet, but sweet for certain. It is.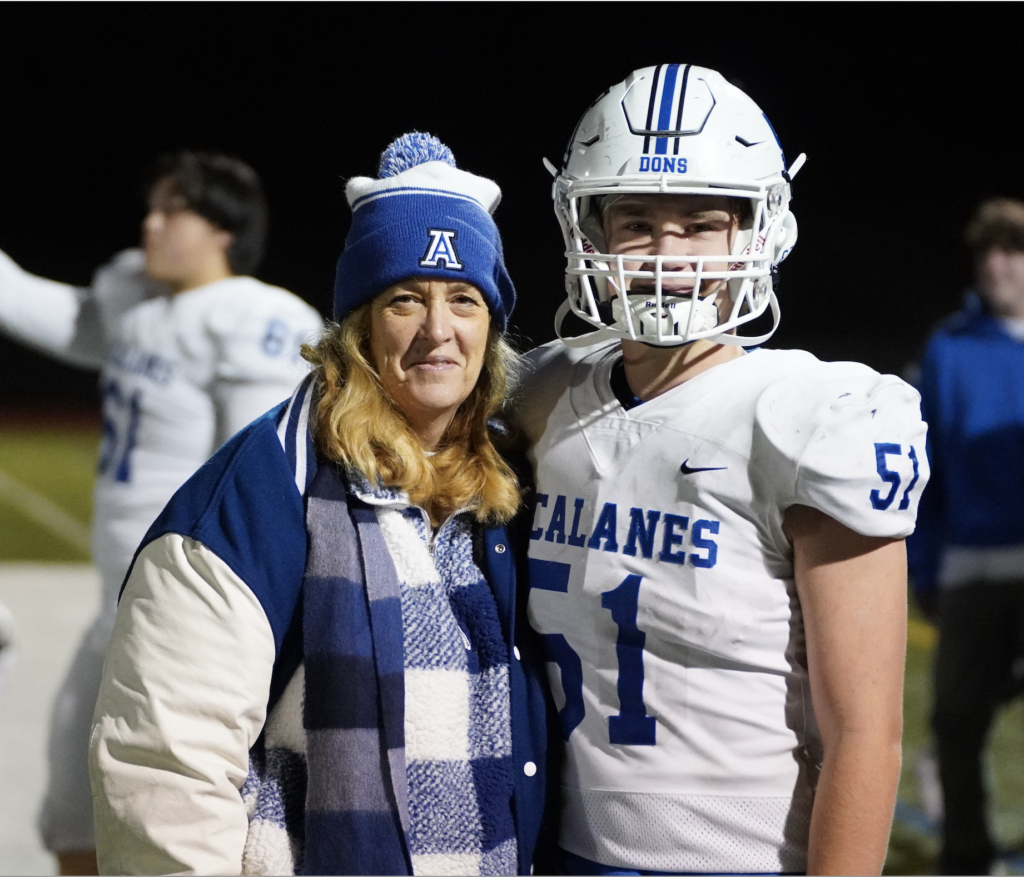 But football has taught me some things too. Lessons learned on the sidelines and in the bleachers, parent parties, around our dinner table, and in the car driving to and from all those practices and the Michlitsch brothers' insight (they have good insight- they really do) and…lessons learned from talking to my boys late at night…or just listening to them talk about practice, a new play, something a coach says…it's endless.
I find simple wisdom in lessons that can be applied to my own everyday life as a mom, sister, football fan, friend, colleague, thinker, and fellow human- all from Dons football.
1. SHOW UP EVERY DAY. Not only on Friday night, but daily. You need to put in the work every single day if you want to be successful. Just like anything else in life. Show up, be persistent, and work hard, so that when your time comes, you are ready.
2. Be a Team player (so cliche and so true) If my boys learned anything about the game, they learned that it is not what is good for you as an individual, but what is good for the team. Work hard, play harder. Brotherhood! Family! We need family and friends daily on the field and off the field.
3. Be Loud & Proud- Yes! You know I love this! This is football! Football has the unique ability to bring people together like this. Some of my fondest memories will be cheering in the stands, high fiving those around me, and offering hugs of encouragement when times get tough. Wouldn't the world be a better place if we came together more often to cheer loud and proud for each other? Feel the BLUE!
4. WE ARE ALL IN THIS TOGETHER. No, I will never wear a helmet or shoulder pads, but I am a part of the Dons family- so are you! We are in this together- coaches, players, students, pasta feed makers, team moms, foundation peeps, sports boosters, ACA admin team, the flag runners, maintenance crew, photographers, announcers, cheerleaders, the fans, the ticket takers and snack shack workers, and every person who volunteers to make the game happen. Even the opposing team. We need each other. We rely on each other. Together we are stronger.
Thank you Dons family – thank you Nicole for the new tradition of the Don Moms Varsity Brunch of love, thank you Christine Sampson, who has no son on the team but screams loud & proud like a rockstar (that's the spirit- love it! I feel the Blue with Christine), Jeff J, Matt D, Dre, Jim M, Dave G, and Pat C rap football with me like I am 'dude'-thx!, thank you senior moms– we have had a long road from elementary school- mol- flight-cyo- little league and now our last (many) weeks of Dons football. God, I love your sons and can't wait to see them soar…. here we go!
Fear the Blue!
Life is short but sweet for certain!
Jane