The following is an excerpt from West Coast Preps:
Acalanes heard what was said in the past. 
Slow. Unathletic. Not up to par with the rest of the region.
Well, things are far different than that.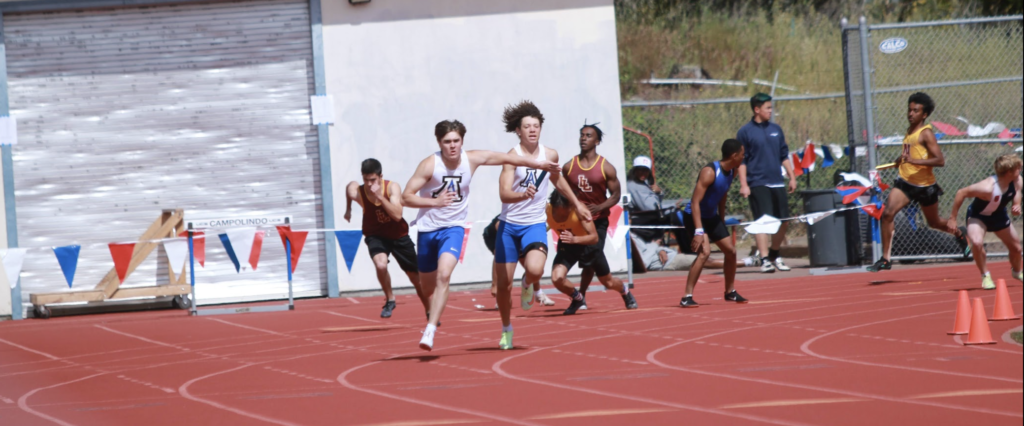 The Acalanes 4×100 meter relay in boys track is putting up a season for the ages, shattering top spots left and right en route to becoming the Diablo Athletic League champions over the weekend in a time of 42.12 seconds while blitzing the rest of the race by more than two seconds.
"We just want to show that we can run with anyone," said Acalanes junior Kyle Bielawski.
Nothing really matters to these Acalanes student-athletes until the North Coast Section and beyond, but there are plenty of special things happening.
Bielawski, sophomore Paul Kuhner, sophomore Trevor Rogers, and junior Ethan Torres comprise a 4×100 relay team ranked as the best in NCS. They ran a 41.39 at the Sacramento Meet of Champions, which is the top mark in the section and just ahead of El Cerrito (41.59) and Pittsburg (41.74).
"I think it's been awesome to be able to come out and run," Kuhner said. "All of us are football players. We're all multiple sport athletes, so it's just changing the narrative for not only track here, but really just bringing it in for Acalanes in a lot of different sports. Just a great team overall this year, too."
And their connection on the football field is immense, as all are college-level football talents showing their worth in track.
Kuhner just won the DAL title in the 100-meter dash in 10.69 seconds – the best wind-legal time in league history and the No. 4 mark among California sophomores. A speed demon, Kuhner is a threat everywhere and showed promise as a sophomore on varsity, as he totaled one catch for 26 yards and an average of 36.5 yards on kickoff returns, which comes after he caught 20 passes for 463 yards and eight touchdowns in a five-game freshman slate.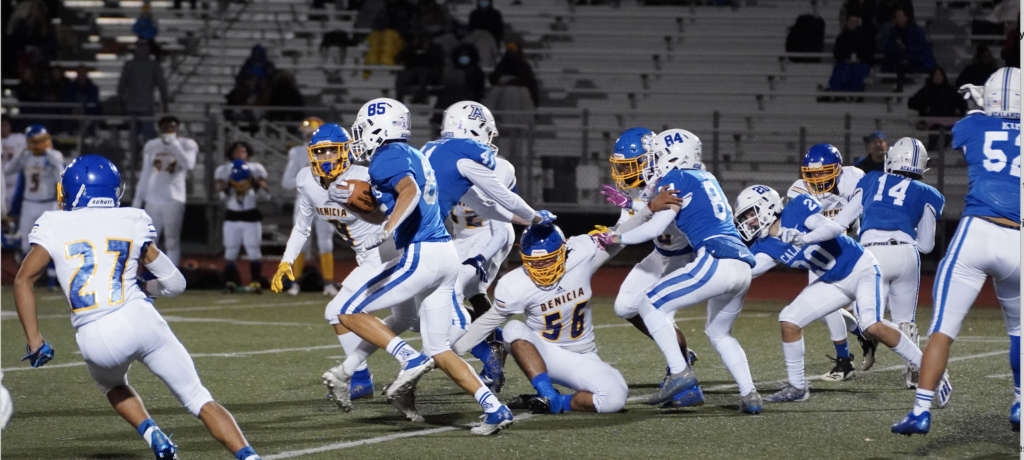 Bielawski, a strong safety, nickelback, and linebacker, is a versatile athlete who keeps getting better. He intercepted one pass, changed the trajectory of many others, made 36 tackles, and compiled six tackles for loss.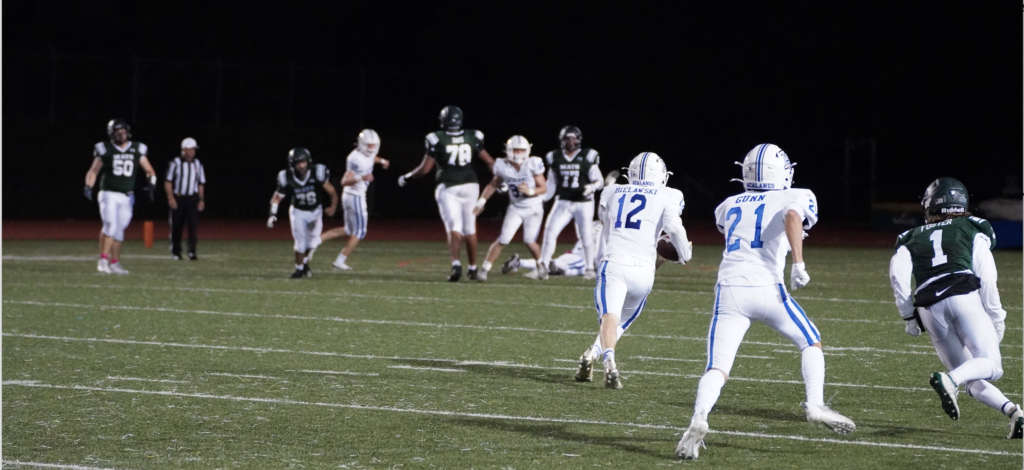 Rogers is already the No. 4 long jumper in the NCS at 22' 9.25 at last month's Stanford Invitational. The athletic freak accounted for the third-most receiving yards on the team (452) – only behind two seniors – and hauled in five touchdown receptions. There was a 106-yard effort against Miramonte late in the schedule.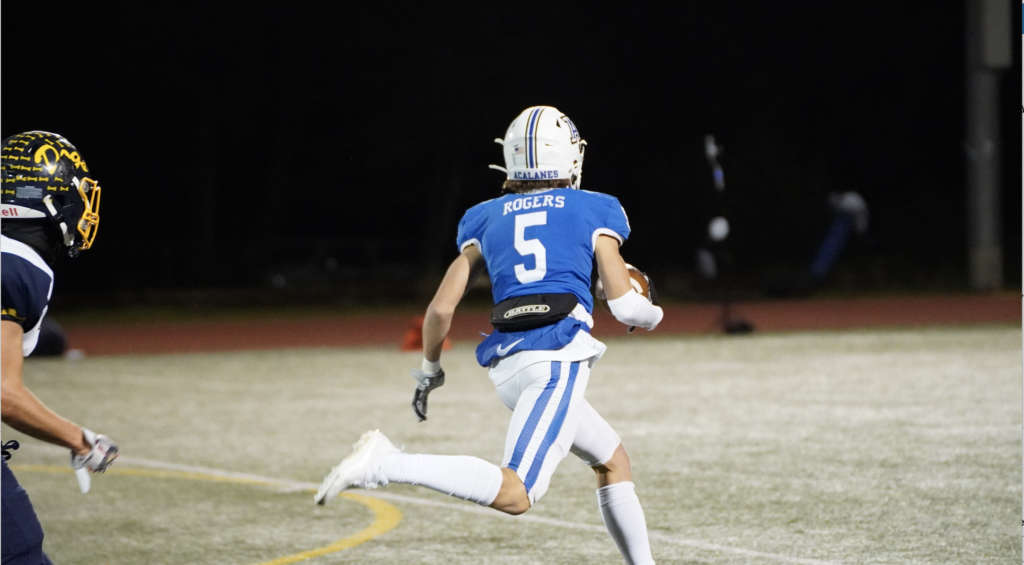 Torres created some big plays out wide, too, as he had 17 catches for 222 yards and four touchdowns.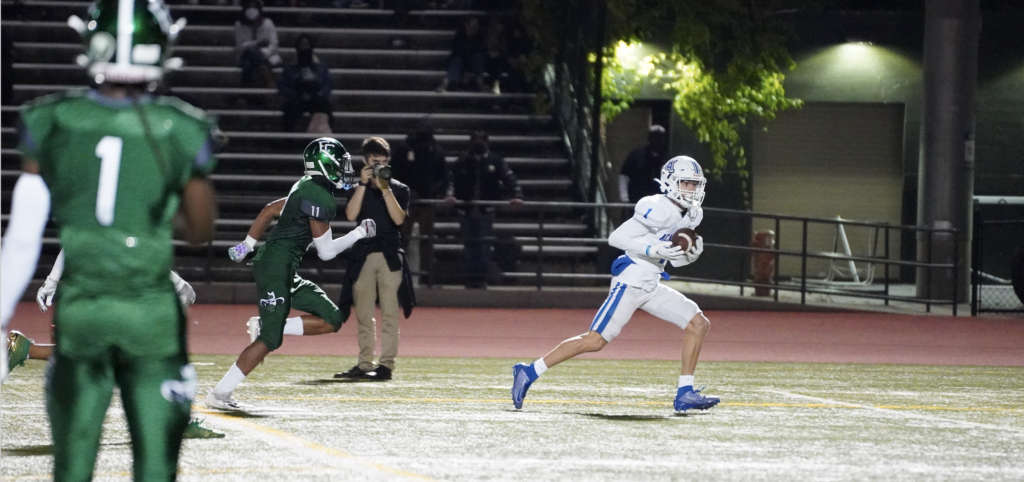 "I think with us being on the football team really builds a strong bond out here and have trust in each other and just really put our all into this race," Torres said. "I think that's huge that we play football together because I think even before we came into this we just had a really strong relationship."
With everything they've accomplished on the track, after already producing some gaudy numbers in football, there is a lot to show in the tank for the fall of 2022.
Track is an essential part of the offseason for many football athletes, especially at the skill positions like these four Acalanes stars. And they should be part of a Dons program that continues to grow – one that won a league championship for the first time in three decades in 2019 and keeps growing at every level.
"We've gotten a lot different," Rogers said. "COVID year they went 5-1. Last year, we had an eh regular season, but this season, after track season, everyone will be a lot faster and I think we'll see a lot of improvements on the football team."