The Lady Dons improved to 12 and 2 on the season with an 83 to 68 victory over California High School on Saturday. It was another slow start, as they battled low numbers (only 9 suited up) and foul trouble all first half. At one point Cal took a 14 point lead in the first half and appeared to be in full control. The Lady Dons went into the half down 42 to 32, amidst endless defensive breakdowns and allowing Cal's star player with college offers to score 25 in the first half. Coach Margaret Gartner made some nice defensive adjustments at the break which allowed the girls to slowly chip away at the lead. Finally the girls both wore Cal down and began to get hot late in the 3rd quarter and were able to turn a double digits deficit into a 4 point lead entering the 4th. The momentum continued in the 4th quarter behind offensive explosions from Sophie Chinn and Karyss Lacanlale, as Cal went man-to-man and couldn't handle either girl.
Sophie Chinn was the scoring leader with 30, Karyss Lacanlale added 26, Emily Du had 10, Dulci Vail scored 9 and Natalie Frechman tacked on 6. Natalie also did a very nice job guarding and containing Cal's best player in the 2nd half. The girls are in action next on Saturday versus Las Lomas.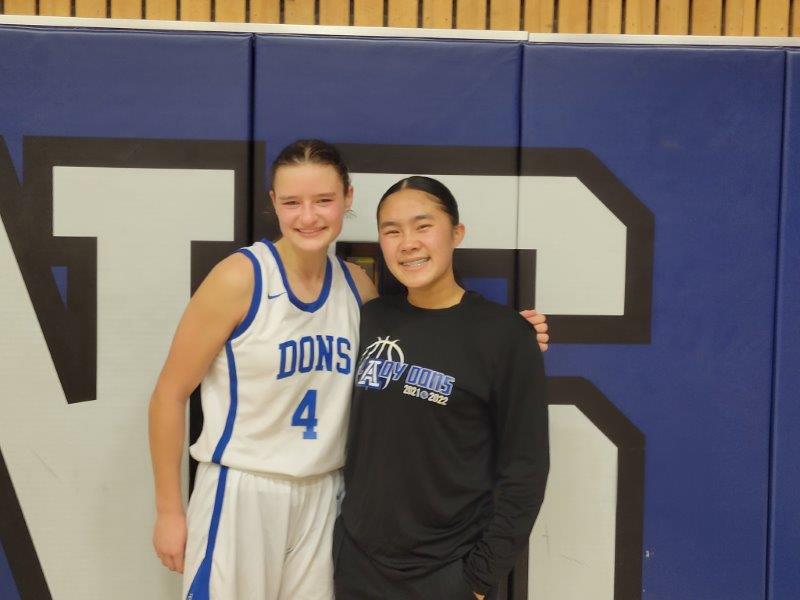 Freshmen tandem of Sophie Chinn and KK Lacanlale had monster performances Saturday.