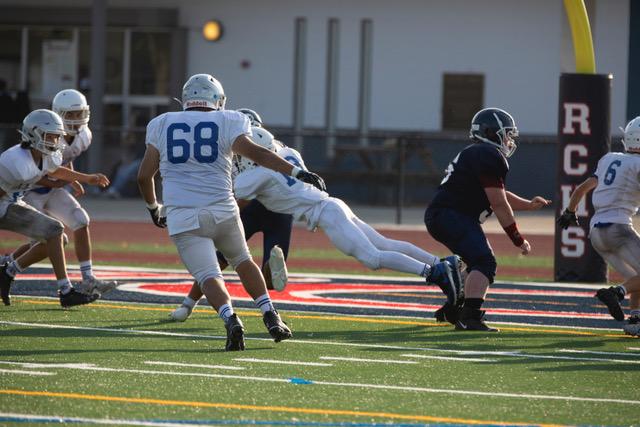 The Freshman Dons played great defense against Rancho Cotate and picked up their first win of the season. Final score was an impressive 46-7.
A number of defensive players burst on the scene with outstanding performances. JONAH RIVERA at defensive line was a force to be reckoned with. He stopped the run, he sacked the quarterback, he forced a fumble and he got pumped up! JACK MANFUL pressured the quarterback all night as an edge rusher and recovered a fumble. BRODY GREENFIELD aggressively pursued the ball at linebacker and made some sweet tackles. RAFAEL ALVAREZ was stout at defensive line and had a sack.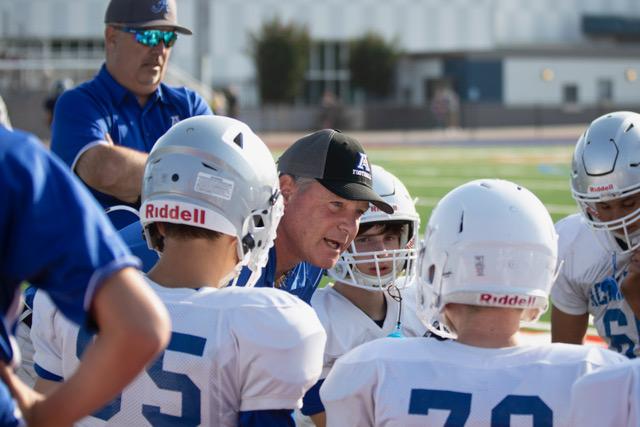 On offense, JAMES STADT at wide receiver had a big night as he took a slant pass to the house for a long touchdown and caught multiple 2 point conversions. STADT has also shown an ability to block effectively at receiver which helps his teammates including NIKO WHITE. This guy WHITE is kind of good by the way. He had a key interception when the score was 0-0 and scored many touchdowns on offense.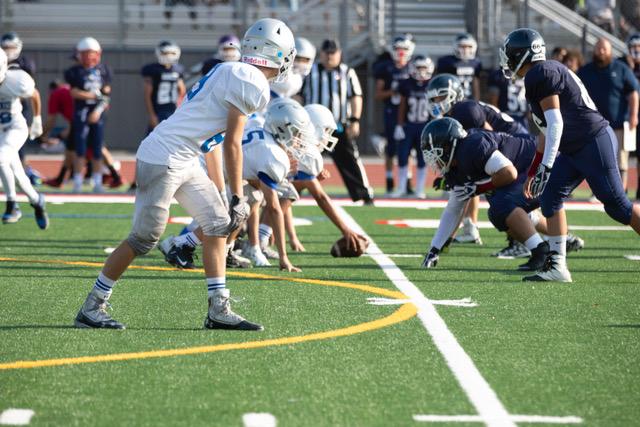 JB FROLICH is a big target for quarterback DAVID GONZALES and caught some nice passes including a slant he took all the way for a touchdown. KEEGAN GODDARD scored on a 27 yard touchdown run. JAKE COLACO threw the ball well at quarterback as he connected with TYLER KIM on a 16 yard pass and then lofted a touchdown throw to SAMMY FOSTER. FAISAL NABULSI, ROMAN BETTIGA and CHASE MORRIS took advantage of their opportunities at running back with strong runs.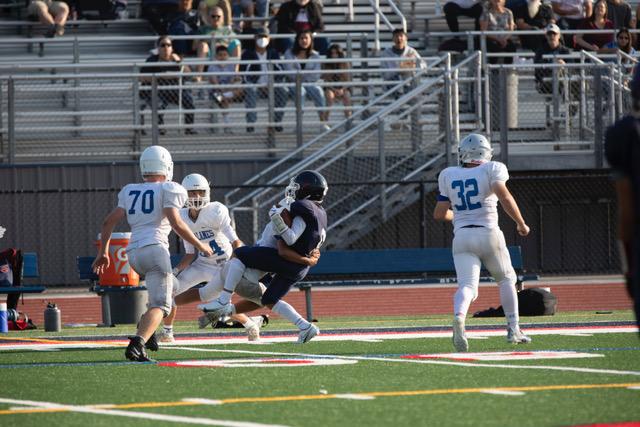 DAVID ROUX at linebacker continues to get to the ball on a regular basis and make tackles. JAKE YOSHINAKA never seems to miss a play as he covers the center position on offense and linebacker on defense
Acalanes Highlights
357 Offensive Yards
Dons scored 6 times
5 Passing TDs
1 Rushing
26 different players made a tackle (this is incredible)
2 Interceptions
2 Sacks
Leading Tacklers (26 different players)
#32 Roux: 3 Solo, 4 Asst, 1 TFL
#18: White: 2 Solo, 4 Asst, 1 INT
#52: Yoshinaka: 3 Solo, 2 Asst
#64: Rivera 1 Solo, 4 Asst, 2 TFL, 1 Sack for -10 yards