The Dons traveled to San Francisco on Friday night to play Fightin' Irish of Sacred Heart Cathedral Preparatory at historic Kezar Stadium – former home of the San Francisco 49ers. A large contingent of Dons fans saw their team emerge with a 44-14 victory, but the final score did not reflect the tough battle over the first three quarters against an aggressive and determined SHC.
Sacred Heart got their home fans feeling good early, jumping out to a 7-0 lead following a 21-yard TD pass from their athletic junior quarterback Cian Dowling.
The Dons were forced to make early lineup adjustments on both offense and defense as starting quarterback and linebacker Mike O'Donnell suffered a severe ankle sprain on the second offensive series. Junior Brady Huchingson took charge of the Dons offense and stepped in to throw a 14-yard TD pass to a wide-open Ryan Reilly that tied the game at 7-7.
The Dons went into halftime with a 10-7 lead following a 27-yard field goal from Hunter Ridley.
The 3rd quarter began with some back and forth TD's, with the Dons stretching out their lead with a 33-yard pass from Huchingson to Jack Muren, countered by an SHC rushing touchdown. But the Dons responded with their second TD of the quarter when Jake Delaney took the ball in from 5 yards out.
The Dons were up 23-14 at the end of the 3rd, setting the stage for some Acalanes offensive fireworks in the 4th quarter where they scored 21 unanswered points.
The Dons 4th quarter onslaught included another 5-yard TD run by Delaney and a 60-yard TD reception by Muren. Nic Rossi finished off the Dons scoring with a rushing TD.
Protecting the lead against the determined SHC offense throughout was the Dons defense led by John Kalil, Graham Oh, and Carson Gragg who had an interception and 6 unassisted tackles.  21 different Dons had tackles, and the Dons sacked SHC quarterback Dowling six times, with two sacks from Joey Carillo.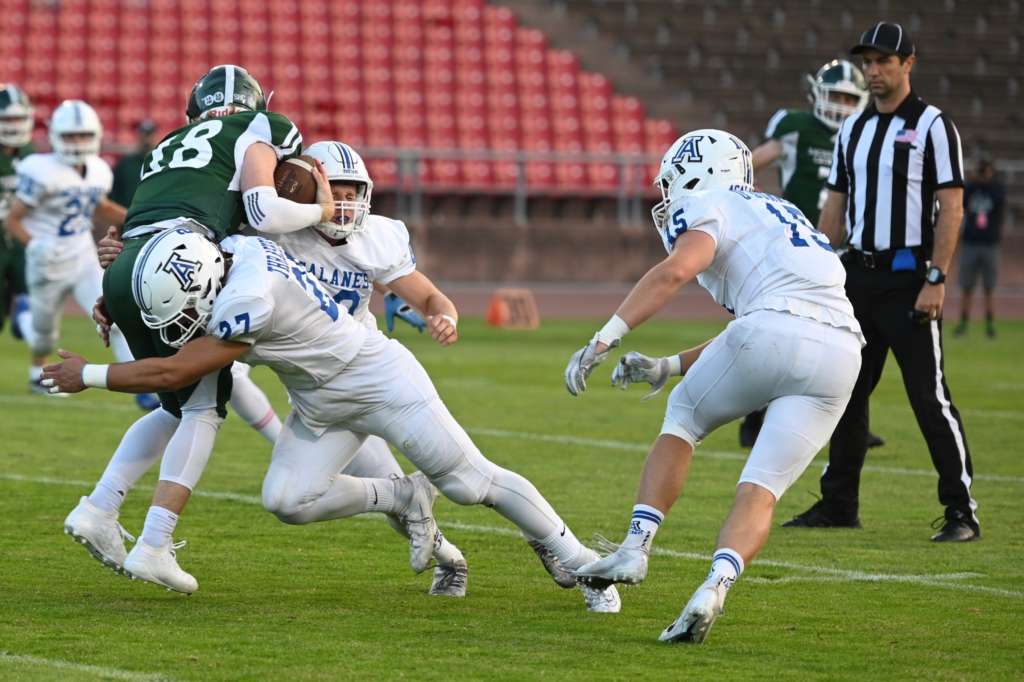 Huchingson was outstanding on Friday night, finishing with 266 yards on 13 of 21 passing with 3 touchdowns. Delaney had 126 yards of total offense and 2 touchdowns, and once again Muren had a big night with 6 receptions for 151 yards and two TDs. While the Irish clearly studied tape from the Dons' opening win over Armijo and focused on receiver Lucas Eppinger, the senior wide receiver still had a one-handed catch for a 27-yard gain to set up a Dons score.
Game photos are here: https://photos.app.goo.gl/1NqLp7PbrfN6s4tu5 and https://photos.app.goo.gl/hBuJz3oXDQnKGf628
The Dons visit Vintage High School in Napa on September 6th to face the unbeaten Crushers.