The Dons got their season underway this past week by becoming co-champions of the 2nd Annual Pittsburg Invitational Tournament, a tournament they also won last year. The tournament included all top D1 teams and ended up crowning co-champions because both semi-final games ended in ties, which led to having two "final" games.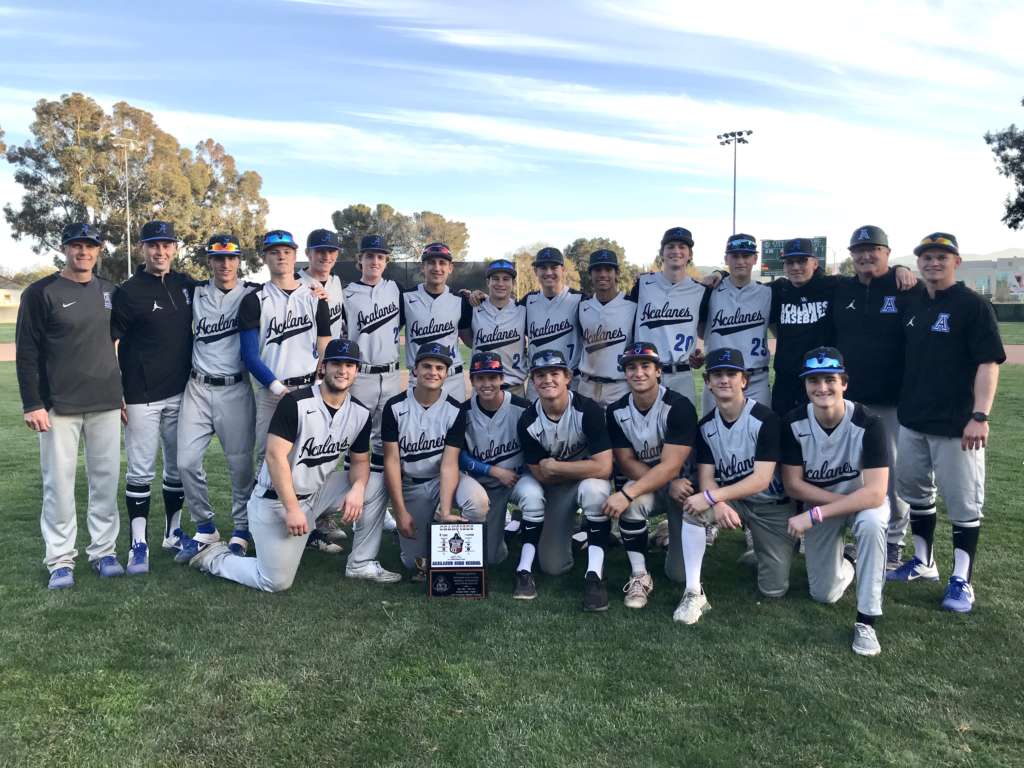 Dons win Game #1 (3-2) vs. Amador Valley High School: Nick Kresnak was an iron horse on the mound and went the full distance, pitching a complete game with just 3 hits, 1 ER and 9 K's. Thatcher Hurd led the Dons' offense, going 2 for 3 with 2 doubles, and 1 RBI. Luke Miles (1 RBI), Davis Diaz, and Brady Huchingson also had hits in the game. Kresnak was awarded Player of the Game for his excellent pitching performance.
Dons tie in an epic Game #2 (4-4) vs. Vacaville High: The match-up that pitted the #11 Vacaville Bulldogs against the #12 Acalanes Dons (in PBR state rankings) ended in an extra-innings tie when the game was called because it was time to turn the lights off at the ballpark! The competition was stiff and strong pitching on both sides shaped the game. Michael Castelli started for the Dons and pitched a gem, going 4.2 innings with 6 hits, 1 ER and 9 strikeouts. Logan Hurd picked up where Castelli left off, pitching 4.1 innings, with 4 hits, 1 ER and also 9 strikeouts. Dons offense was led by Tommy Thrasher who went 2-3 and was helped by Nick Kresnak (1H), Davis Diaz (1H), Thatcher Hurd (1RBI), Nicolas Bamont (1RBI) and Cole Murgia (1RBI).
Dons win Game #3 (6-1) vs. Berkeley High: The Dons extended their success on the mound, with Sam Winkles pitching six strong innings, allowing just 4 hits, 1 ER and striking out 7. Sophomore Dante Montgomery came in to close out the final inning, keeping Berkeley off the bases and striking out 2. Sophomore Kyle White (1H, 3B, 3RBI) was the offensive hero, and named Player of the Game, for coming up with a bases-loaded line drive triple in the six inning to blow the game open. After Nicolas Bamont (2H, 1RBI) knocked White in with a line drive single of his own, the Dons were up 6-1. Davis Diaz (1H, 2RBI) got the Dons on the board in the 1st inning with an RBI single that brought in Cole Murgia (1H) who had flexed his lead-off speed on the base paths and stole his way over to third base. Other offensive contributors in the game included: Nick Kresnak (1H, 2B) and Brady Huchingson (1H).
The Dons will build on this strong start to the season when they take on an always-talented Foothill High School squad on Wednesday, March 11 at 4pm at home. Come out and cheer on the Dons!
Follow on Twitter: @AcalanesDonsBB and on Instagram: acalanesbaseball